2 December 2016
Infineon opens GaN expansion of Epi Services fab in Mesa
Infineon Technologies AG of Neubiberg, Germany has celebrated the grand opening of its new warehouse and gallium nitride (GaN) cleanroom at its facility located at 550 W. Juanita Avenue, Mesa, AZ, USA. The multi-million-dollar expansion project added about 11,500ft2 and will create more than 20 new jobs.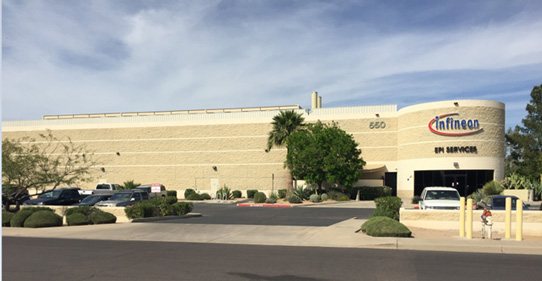 Picture: Infineon's facility in Mesa.
"It's wonderful to see a business like Infineon show such a strong commitment to Mesa and District 3," commented vice mayor & District 3 Council member Dennis Kavanaugh at the event.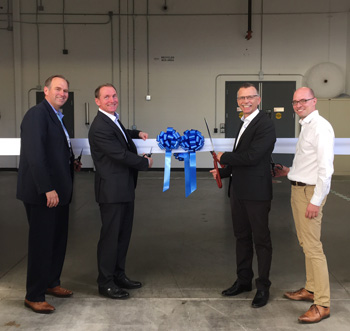 Picture: From left to right: Bob Le Fort, president Infineon Americas; Alex Miehr, senior director Materials Management, Infineon Technologies AG; Juergen Woehl, managing director, Infineon Epi Services; and Steffen Metzger, senior project director, GaN, Infineon Technologies AG.
In attendance at the grand opening were Infineon management and employees from the USA; Villach, Austria; Munich, Germany; and Kulim, Malaysia. The event was hosted by Juergen Woehl, managing director of Infineon EPI Services Inc based in Mesa. Guest speakers included Bob LeFord, president of Infineon Americas; Steffen Metzger, head of Infineon GaN projects based in Munich; and Alex Miehr, head of Materials Management, Munich.
"Our Mesa facility underlines Infineon's commitment to work on advanced materials here in Mesa," stated Dr Juergen Woehl, managing director, Infineon Epi Services.
Infineon completes acquisition of International Rectifier
Tags: Infineon
Visit: www.infineon.com