2 August 2016
Solar Frontier completes 30MW PV plant at Nagasaki Airport
At an opening ceremony attended by representatives of Nagasaki Prefecture, Tokyo-based Solar Frontier – the largest manufacturer of CIS (copper indium selenium) thin-film photovoltaic (PV) solar modules – and Chopro, a local liquefied petroleum gas (LPG) distributor and solar power producer, have announced the completion of a 30MW solar power plant located next to Nagasaki Airport in Japan.
As the biggest solar installation in Nagasaki Prefecture (and one of the biggest in Japan), the 'SOL de Omura Minojima Solar Power Plant' is expected to generate about 37 gigawatt-hours of electricity per year (equivalent to the annual power consumption of 7500 households in Japan).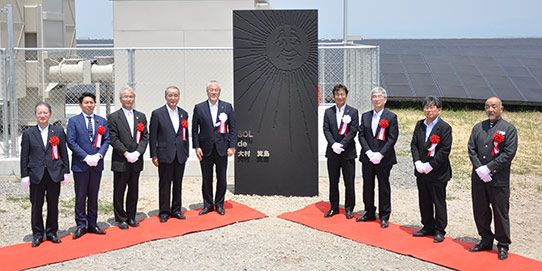 Picture: Representatives, including Solar Frontier's CEO Atsuhiko Hirano, in front of a monument symbolizing the project.
Solar Frontier and Chopro jointly established the company Nagasaki Solar Energy to develop and manage the new power plant. Chiyoda Corporate provided engineering, procurement & construction (EPC) services, and the land for the project was leased by Nagasaki Prefecture. The project benefited from the support of regional companies, including a syndicate of local banks from the Kyushu region (led by Mizuho Bank) which provided non-recourse project financing. Electricity generated by the power plant is being sold to Kyushu Electric Power Company.
SOL de Omura Minojima's location next to Nagasaki Airport's 3000m runway and on an offshore island presented the development team with specific challenges. Solar Frontier's CIS solar panels offer anti-reflective properties so as not to affect aircraft operations. The power plant was designed in accordance with height and other regulatory restrictions due to airplanes landing and taking off. A 10km submarine power cable was also laid in order to connect the power plant to the electric grid on mainland Kyushu. Construction, which began in April 2015, was completed on schedule in July 2016.
Tags: CIS thin-film PV modules
Visit: www.solar-frontier.com