12 August 2016
Infineon tops power semiconductor market, followed by TI and ST, after 2.6% decline to $34bn in 2015
Overall revenue for the power semiconductor market globally fell by 2.6% to $34bn in 2015, due primarily to macroeconomic factors and application-specific issues, according to IHS Markit's 'Power Semiconductor Market Share Report - 2016' (which this year includes power ICs for the first time, as well as discrete power semiconductors and power semiconductor modules). Specifically, discrete power semiconductor product revenue declined 10.1% and power module revenues fell by 11.4%, while power integrated-circuit (IC) revenue rose by 4.5%.
As part of IHS Markit's Power Semiconductor Intelligence Service, the report identifies Infineon Technologies as the leading power semiconductor manufacturer last year, with 12% of the market, Texas Instruments with 11% and STMicroelectronics with 6%.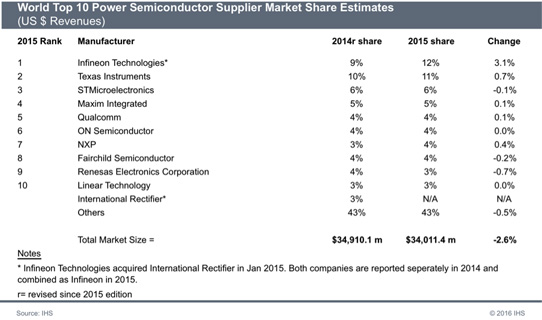 "While Texas Instruments previously led the market in 2014, the company was overtaken by Infineon Technologies in 2015, following its acquisition of International Rectifier and LS Power Semitech," says senior analyst Richard Eden. "Infineon was the leading global supplier of both discrete power semiconductors and power modules, and the fourth-largest supplier of power management ICs," he adds. "Infineon has been the leading supplier of discretes for several years, but overtook Mitsubishi Electric to lead the power module market for the first time in 2015, again, due to the International Rectifier and LS Power Semitech acquisitions."
According to the report, while Infineon Technologies' acquisition of International Rectifier was the largest acquisition last year, several other deals also changed the terrain of the power semiconductor market landscape. In 2015, MediaTek acquired RichTek, Microchip acquired Micrel, and NXP Semiconductors acquired Freescale Semiconductor. In addition, NXP Semiconductors created WeEn Semiconductors, a joint venture with Beijing JianGuang Asset Management Co. Ltd (JAC Capital). Also, CSR Times Electric merged with China CNR Corp to form CRRC Times Electric, and ROHM Semiconductor acquired Powervation.
"Companies were active in acquisitions for several reasons - especially the low financing cost in multiple regions of the world, which meant that borrowing rates in the United States and European Central bank were nearly zero," notes senior analyst Jonathan Liao. "In addition, the acquiring company typically increases its revenues and margins by taking the acquired company's existing customers and sales without incurring marketing, advertising and other additional costs."
GaN and SiC power semiconductor market to surpass $1bn in 2020 then $3.7bn in 2025
Tags: Power electronics
Visit: https://technology.ihs.com/580304/power-semiconductor-market-share-report-2016