17 August 2016
Aixtron's increased orders in Q2 herald recovery in second-half 2016
For first-half 2016, deposition equipment maker Aixtron SE of Herzogenrath, near Aachen, Germany has reported revenue of €55.5m, down 31% on first-half 2015's €80.7m, reflecting the ongoing weak demand environment in the firm's core market of gallium nitride (GaN) LED applications as well as silicon applications. Of total revenue, optoelectronics comprised 35% (up from just 14% a year ago), silicon 30%, LEDs just 20% and power electronics 10%.
Equipment sales comprised 66% of revenue (€36.6m) and sales of spare parts and services the remaining 34%. On a regional basis, 55% of revenue came from Asia (down from 70% last quarter and 79% a year ago), Europe 25% (roughly doubling from 13% last quarter and 11% a year ago), and the USA 20% (up from 17% last quarter and 10% a year ago).
However, for second-quarter 2016 revenue was €34.1m, rebounding by 59% from Q1's low of €21.4m, though still almost halving from Q4/2015's €62.5m and down 16% on €40.4m a year ago.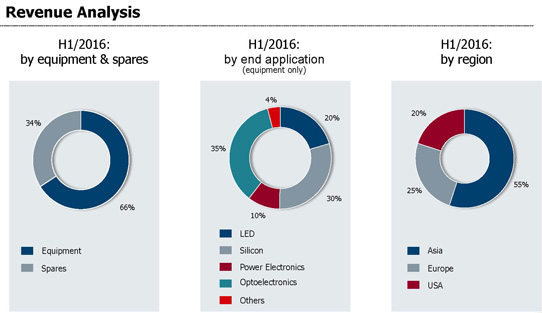 Despite revenue falling year-on-year, gross margin has improved from 15% in first-half 2015 to 18% in first-half 2016, with quarterly gross margin rising from just 9% in Q2/2015 and 15% in Q1/2016 to 20% in Q2/2016, due mainly to better utilization of production capacities from higher volumes.
Operating expenses have been cut by 8% from €39.1m in first-half 2015 to €35.9m in first-half 2016 (rising only slightly from €17.8m in Q1 to €18m in Q2, despite the increased revenue). The additional costs from PlasmaSi Inc of Fremont, CA, USA (acquired in Q2/2015) and the comparative negative currency effect in Q1 were offset by higher productivity, limiting discretionary spending, and a contractual settlement.
The development of revenues and earnings was in line with expectations while manufacturers remain cautious concerning capacity expansion, says Aixtron.
Earnings before interest, tax, depreciation and amortization (EBITDA) has improved slightly from -€21.8m in first-half 2015 to -€20m in second-half 2016 (improving from -€15.3m in Q2/2015 and -€11.7m in Q1/2016 to -€8.2m in Q2/2016).
Capital expenditure (CapEx) has been slashed from €7.4m in first-half 2015 to €1.7m in first-half 2016 (€0.9m in Q1 and €0.8m in Q2). This has therefore slightly mitigated the increase in free cash outflow, from -€12.3m in first-half 2015 to -€41m in first-half 2016 (-€20.3m in Q1 and -€20.7m in Q2). This is due largely to higher inventories in preparation for stronger planned shipments in second-half 2016 as well as a the second instalment of the agreed return of advance payments to San'an Optoelectronics Co Ltd (China's largest LED maker) plus an agreed milestone payment in Q1/2016 for the acquisition of PlasmaSi.
Cash and cash equivalents have hence fallen further, from €209.4m at the end of December 2015 to €181.9m at the end of March and €161.3m at the end of June (compared with more than €300m at the end of 2013).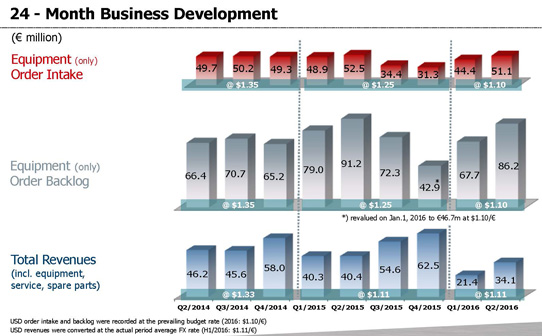 Although total order intake in first-half 2016 fell by 6% year-on-year from €101.4m in first-half 2015 to €95.5m in first-half 2016, it improved by 15% sequentially from €44.4m in Q2 to €51.1m in Q2. The development in revenues and order intake in Q2/2016 was mainly driven by demand for MOCVD production systems for optoelectronics and power electronics as well as for the silicon industry.
Equipment order backlog at the end of June was €86.2m, down slightly from €91.2m a year previously but up 27% sequentially from €67.7m at the end of March. This supports management's expectation of significant revenue growth for second-half 2016 compared with first-half 2016.
"Despite the weak development of revenues in the first half, we reiterated our 2016 full-year revenue guidance [of €170-200m, given in February 2016, compared with full-year 2015's €197.8m] due to a solid order momentum which is set to continue into Q3/2016," says president & CEO Martin Goetzeler. Full-year 2016 order intake is expected to be €180-200m (up from €167.1m in full-year 2015).
Before transaction-related impacts, the EBITDA, EBIT, net result and free cash flow are expected to improve slightly for full-year 2016 compared with 2015 but to remain negative as revenue volumes still remain too low to enable full financing of all technology roadmaps in the development pipeline. "It is clear that continued net losses cannot be acceptable going forward," comments Goetzeler.
Aixtron has also issued the reasoned opinion from its Executive and Supervisory Boards in which they recommend that shareholders accept the €670m (€6 per ordinary share) takeover offer by Grand Chip Investment GmbH (GCI), an indirect subsidiary of Fujian Grand Chip Investment Fund LP (FGC), made in late May for all outstanding Aixtron shares. The GCI offer and the planned transaction is deemed positive as it could provide Aixtron with the relevant support to successfully develop all targeted technologies to market maturity and to better access growth markets as underlined by the following examples:
GCI has committed to support Aixtron to continue developing existing product lines, for its customers' benefit and to maintain the existing global set up;
GCI has also committed that the IP portfolio is to remain with and be used solely by Aixtron while protecting sensitive and confidential customer information;
GCI has committed to support a regional expansion (especially in China), which would allow better exploitation of the most significant growth opportunities;
the fairness opinion of J.P. Morgan supports that GCI's takeover offer reflects a fair and adequate offer price; and
alternative scenarios for Aixtron would either be very risky or would result in a smaller Aixtron with reduced growth potential.
Closing of the transaction is expected in second-half 2016.
Aixtron agrees €670m takeover by Fujian Grand Chip Investment Fund
Aixtron's Q1 revenue hit by ongoing weak LED-related demand
Aixtron's revenue grows 14% in Q4 as diversification outweighs LED-related China loss
Aixtron's revenue grows 35% in Q3
Aixtron's first-half revenue and margin suppressed by delayed customer qualifications for AIX R6 MOCVD tool
Aixtron improves earnings despite revenue drop while new MOCVD system undergoes qualification
Aixtron acquires PECVD-based OLED thin-film encapsulation firm PlasmaSi
Aixtron continues reorganization in 2015
Aixtron launches AIX R6 next-generation MOCVD system
China's San'an expands by ordering 50 Aixtron MOCVD systems
Visit: www.aixtron.com