6 April 2016
XsunX completes commercial solar carport project in California
XsunX Inc of Aliso Viejo, CA, USA, which is developing hybrid copper indium gallium (di)selenide thin-film (CIGS) photovoltaic (TFPV) cell technologies and 'CIGSolar' manufacturing processes, has concluded the construction of another large commercial solar power system, a 157kW Solar Carport Installation in Anaheim, CA, capable of delivering over $1m in projected energy savings in its first 25-years of operation.
Installed in Anaheim to service a multi-tenant commercial office space, the project should reduce the facility's operating costs by nearly $30,000 in the first year alone. Annual savings will continue to increase to nearly $40,000 by the tenth year.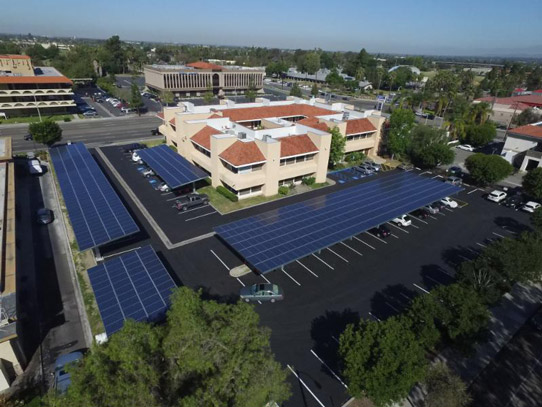 "The robust solar carport application will provide our client with many years of clean energy and pay for itself in just over four years," says CEO Tom Djokovich. "Solar carports are one of the better investments [that] commercial property owners can make," he adds. "With our ability to offer solar carports at nearly the same costs as roof-top solar, we help turn parking areas into profitable assets, allowing our clients to never look at their parking areas the same way again."
XsunX says that its turn-key solar carport solutions, in addition to improving parking area aesthetics, enable the conversion of parking areas into valuable solar power plants capable of reducing facility operating costs and increasing net operating margins and property values while delivering thousands in Federal tax credits.
XsunX notes that it is in a growing sector of the renewable energy market that provides solutions unhindered by common logistical challenges associated with traditional roof-top applications. The firm continues to develop its strategy to market to a broad range of customers, including school, government and commercial organizations.
Visit: www.xsunx.com