11 April 2016
Plessey signs license agreement with PhytoLux for solid-state horticultural growth lighting solutions
UK-based Plessey has signed a global exclusive license agreement to manufacture and sell the horticultural lighting solution of UK firm PhytoLux.
Plessey has taken on PhytoLux's operational, technical and commercial activities. The collaboration combines design engineering to provide LED plant growth lighting solutions for the global market.
"Plessey, one of the UK's most prestigious engineering brands, is at the forefront of the global LED Lighting revolution," comments PhytoLux's founder & managing director Steve Edwards, now head of the LED lighting solutions division of Plessey. "We are looking forward to delivering our unique solution to the global horticultural market over the coming months and years," he adds.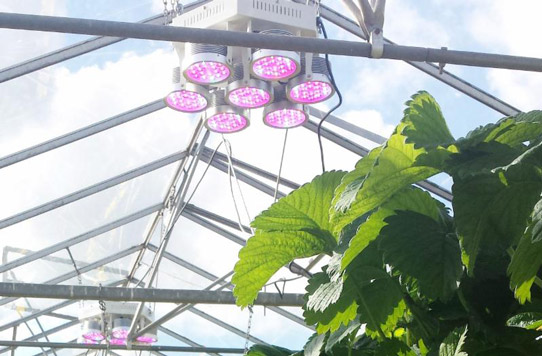 Picture: Plessey's PhytoLux Attis-7 LED horticultural lights in use by a commercial strawberry grower near Colchester, UK for successful season extension.
"Steve and the team at PhytoLux have built an impressive record of innovation and proof of concept with the researchers and industrial growers in the UK," says Plessey's CEO Michael LeGoff. "The horticultural market is a key growth area for solid-state lighting and is without a significant dominant player… We have an opportunity to be that dominant player with the PhytoLux end-product," he believes. "Our MaGIC [Manufactured on GaN-on-Si I/C] GaN-on-silicon technology for power LED applications is perfect for these kinds of directed lighting applications where we have very tight wavelength control. The next-generation Plessey LEDs with integrated electronics and optics will further add to the intrinsic advantages of the PhytoLux range of products."
LeGoff describes plant growth as one of the fastest-growing sectors for LED lighting. A recent market research report by Wintergreen Research projects that the horticultural LED lighting market is set to reach £3.6bn by 2020.
Tags: Plessey GaN-on-Si HB-LEDs
Visit: www.phytolux.com
Visit: www.plesseysemiconductors.com/led-plessey-semiconductors.php