19 April 2016
Peregrine extends MPAC–Doherty product family to 1.8-3.8GHz to support GaN power amplifier frequencies
In booth #309 at EDI CON China 2016 Electronic Design Innovation Conference in Beijing (19-21 April), Peregrine Semiconductor Corp of San Diego, CA, USA – a fabless provider of radio-frequency integrated circuits (RFICs) based on silicon-on-insulator (SOI) – is introducing the PE46130 and PE46140 UltraCMOS MPAC–Doherty products.
The monolithic phase and amplitude controllers (MPAC) join the existing PE46120 (launched in May 2015) in offering maximum phase-tuning flexibility for Doherty power amplifier (PA) optimization. Designed for the LTE and LTE-A wireless-infrastructure transceiver market, the MPAC–Doherty product family now extends from 1.8GHz to 3.8GHz with three separate, pin-compatible parts.
"Phase and amplitude control is critical to the future of communications, where everything from LTE and 5G to radar will rely on the efficient exchange of data," notes director of marketing Kinana Hussain. "Peregrine's monolithic phase and amplitude controllers will support this future," he adds. "The addition of two integrated products to Peregrine's MPAC–Doherty product family is only the beginning. Upcoming products in the MPAC family will support beam-forming, full wireless duplex and 5G applications. Furthermore, the entire MPAC portfolio will continue to showcase the intelligent integration capabilities of Peregrine's UltraCMOS technology."
Because the PE46130 and PE46140 are based on UltraCMOS technology, they deliver the intelligent integration benefits (reliability, flexibility, smaller footprint, configurability and greater system capability) that cannot be matched by gallium arsenide (GaAs) solutions, claims the firm. Each MPAC–Doherty product eliminates the need for discrete components and integrates a 90° RF splitter, 5-bit digital phase shifters, a 4-bit digital step attenuator and a digital serial peripheral (SPI) interface on a single monolithic die.
The PE46130 and PE46140 are suitable for optimizing gallium nitride (GaN)-based Doherty PAs, which are preferred at higher frequencies. Low-frequency Doherty amplifiers are typically based on laterally diffused metal-oxide-semiconductor (LDMOS) technology, as LDMOS offers efficiency and cost advantages at frequencies less than 2GHz. However, at higher frequencies, this efficiency breaks down and GaN-based Doherty PAs are used for their ability to maintain performance and meet high-power-density requirements. The UltraCMOS PE46130 covers a frequency range of 2.3-2.7GHz and PE46140 spans 3.4-3.8GHz (complementing 1.8-2.2GHz for the PE46120).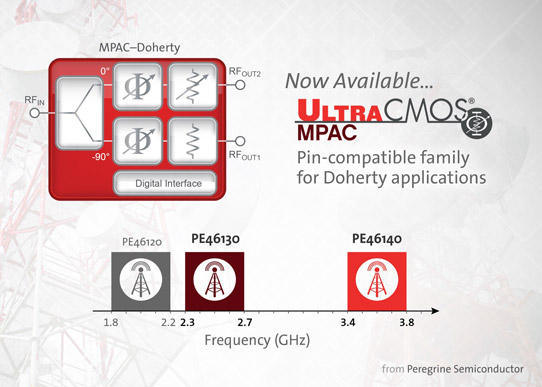 In Doherty amplifier architectures, the PE46130 and PE46140 reduce the bill of materials (BOM) by improving the overall yield of expensive Doherty power amplifier assemblies utilizing high-efficiency GaN transistors, says Peregrine. Additionally, these controllers offer performance advantages in power-added efficiency, linearity across the frequency range, Doherty bandwidth through better matching, and increased effectiveness of the digital pre-distortion (DPD) loop. The maximum tuning flexibility enables uniformity and repeatability between transceiver paths, while increasing system reliability. The monolithic controllers can be programmed remotely through the digital interface to accommodate varying field requirements. This flexibility allows engineers to adjust the phase and amplitude in real-time for operational and environmental factors.
Aside from supporting different cellular frequency bands, the PE46130 and PE46140 are similar in their features and performance advantages. The controllers cover a phase range of 87.2° in 2.8° steps and an attenuation range of 7.5dB in 0.5dB steps. They deliver high linearity of greater than 60dBm IIP3 (third-order input intercept point) and extremely low power consumption of 0.35mA. Uniquely, each controller provides high power handling of 35dBm P0.1dB and high port-to-port isolation of 30dB. UltraCMOS technology enables the controllers to deliver superior ESD performance of at least 1kV on all RF pins, an extended temperature range up to +105°C, and a wide power supply range of 2.3-5.5V. Each controller is offered in a RoHS-compliant, 32-lead 6mm x 6mm QFN.
Samples and evaluation kits are available for PE46130 and PE46140, and volume-production parts for PE46130 are available now. The PE46130 costs $9.37 each for 1000-unit orders, $7.60 each for 5000-unit orders and $7.03 each for 10,000-unit orders. The PE46140 costs $10.31 each for 1000-unit orders, $8.36 each for 5000-unit orders and $7.73 each for 10,000-unit orders.
Peregrine makes available first UltraCMOS monolithic phase and amplitude controller
Visit: www.ediconchina.com
Visit: www.psemi.com