8 September 2014
Tufts University orders Veeco GENxplor R&D MBE systems for solar and electronics device research
Epitaxial deposition and process equipment maker Veeco Instruments Inc of Plainview, NY, USA says that Tufts University in Medford, Massachusetts has ordered two GENxplor R&D molecular beam epitaxy (MBE) systems for compound semiconductor research.
The systems were purchased in part using a grant from the US National Science Foundation (NSF) and will be the basis for a new Epitaxial Core Laboratory in Tufts' School of Engineering. The lab will be directed by Tufts faculty professor Tom Vandervelde and staffed by an experienced team to produce samples for Tufts University research as well as others in the research and business community.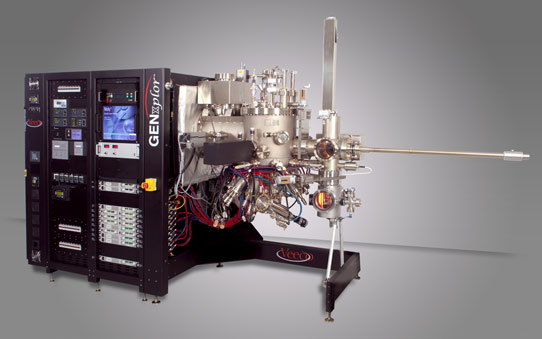 Picture: Veeco's GENxplor R&D MBE system.
"With the introduction of the GENxplor, Veeco has become synonymous with innovative MBE R&D technology," comments Vandervelde. "The advanced design, multi-chamber capabilities, and ease-of-use made it the ideal choice when we received the NSF grant," he adds. "The GENxplor systems will enable our team to make great progress in developing energy-efficient semiconductor devices for solar and electronic applications."
The GENxplor deposits epitaxial layers on substrates up to 3" in diameter and is used for a wide variety of applications such as developing high-speed transistors, night-vision systems, and wireless technology.
"Dr Vandervelde is a leading figure in the MBE community and his selection of the GENxplor is a testament to Veeco's strong and continuing commitment to the R&D market," says Gerry Blumenstock, VP & business unit manager for Veeco's MBE Operations.
Veeco is exhibiting the GENxplor MBE system in booth #1-2 at the International MBE Conference in Flagstaff, AZ, USA (7-11 September).
McGill orders Veeco GENxplor R&D MBE system for nitride light-emitting and power electronic devices
Veeco to ship first GENxplor R&D MBE system to University of Oklahoma
University of Nottingham buys GENxplor R&D MBE systems for optoelectronic research
Veeco launches GENxplor MBE system for compound semiconductor R&D
Visit: www.ece.tufts.edu/research/reap
Visit: www.veeco.com/genxplor