17 September 2014
Riber launches Compact 21 Discover 3" substrate MBE research system
At the 18th International Conference on Molecular Beam Epitaxy (MBE 2014) in Flagstaff, AZ, USA (7-12 September), Riber S.A. of Bezons, France, which manufactures molecular beam epitaxy (MBE) systems as well as evaporation sources and effusion cells, launched the Compact 21 Discover 3-inch substrate MBE research system.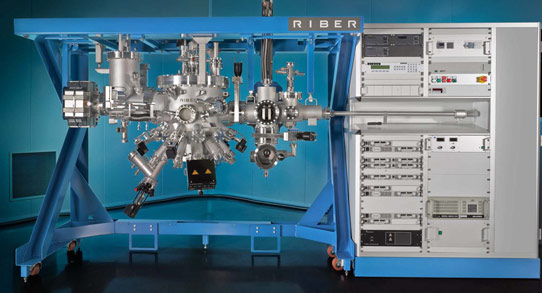 Picture: Riber's new Compact 21 Discover MBE system, launched at MBE 2014.
Riber claims that the new model revolutionizes MBE-based research by suspending all vacuum sections of the reactor inside an ergonomic open-bottom frame (enabling 360° access to the system's components) and incorporating the transfer rod (traditionally a fragile, long part of the system) into the electronics cabinet. This not only protects the transfer device but decreases the system's length by more than a 1.5m, halving the Discover's footprint in costly cleanroom space compared with others products, it is reckoned. The result is what is claimed to be the most compact and ergonomic 3" MBE system on the market.
Compared with previous systems, the new open-frame design offers full access to the most important parts on an MBE system: the effusion cells (where the materials are evaporated and reloaded), easing use for the scientist and giving easy components access for maintenance engineers and technicians.
Based on the recent Compact 21DZ system, the Discover is also said to be the only 3" MBE system on the market to combine 12 symmetric cell ports with a 10" central port, offering flexible performance.
Riber says that the launch of the new model illustrates the firm's strategy to develop and create value through its range of MBE systems. The Compact 21 Discover delivers low footprint, ergonomic design and flexible use, and will drive Riber's development in new markets and buoyant geographical segments, the firm reckons.
Visit: www.riber.com