18 September 2014
Anadigics' front-end ICs enable WiFi connectivity in LG G3 Beat smartphone
Broadband wireless and wireline communications component maker Anadigics Inc of Warren, NJ, USA is shipping production volumes of its AWL9280 and AWL9580S WiFi front-end ICs (FEICs) to LG Electronics in support of the global launch of the LG G3 Beat - known as the LG G3 s in Europe and the Commonwealth of Independent States (CIS). The feature-rich smartphone (a compact variant of the LG G3) offers a 5.0-inch HD IPS display, 1.2GHz quad-core processor, and 8 megapixel rear-facing camera with laser auto focus.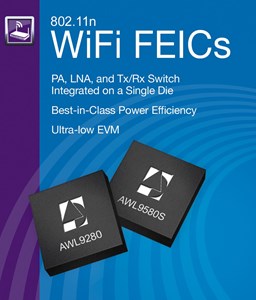 Picture: Anadigics' 2.4 and 5GHz 802.11n front-end ICs.
"We are very pleased to continue our long-term collaboration with LG Electronics and to be selected to enable wireless connectivity in the new LG G3 Beat," says Jerry Miller, senior VP of worldwide sales and applications. "Our FEICs have raised the bar in WiFi performance and integration, enabling faster throughput, longer battery life and more compact designs," he claims.
The AWL9280 2.4 GHz and AWL9580S 5GHz FEICs leverage Anadigics' patented InGaP-Plus technology and uniquely designed architectures to combine a high-performance power amplifier (PA), low-noise amplifier (LNA) with bypass option, and Tx/Rx RF switch on a single die. This level of integration greatly improves manufacturability and reliability, reduces the PCB area required, and simplifies RF front-end design to speed time-to-market, says Anadigics.
The compact 2.5mm x 2.5mm x 0.4mm QFN package also incorporates a high-accuracy integrated power detector and RF ports internally matched to 50 Ohms to reduce PCB space requirements
The complete family of WiFi FEICs provides what is claimed to be outstanding noise figure performance and low error vector magnitude (EVM) to maintain high-modulation accuracy, enabling high data throughput.
Samsung selects Anadigics' WiFi front-end ICs for Galaxy Tab 3 family
Anadigics' WiFi front-end specified on leading reference designs to start shipping in Q1/2013
Tags: Anadigics
Visit: www.anadigics.com