6 November 2014
Veeco cuts losses, but growth in MOCVD revenue offset by MBE and Data Storage
For the third-quarter 2014, epitaxial deposition and process equipment maker Veeco Instruments Inc of Plainview, NY, USA has reported revenue of $93.3m, down on $99.3m a year ago and $95.1m last quarter (and below the mid-point of the $92-100m guidance range).
Data Storage revenue was $16m (18% of total revenue), down on $18m (19% of total revenue) last quarter (due primarily to a shipment to a Data Storage customer being delayed to November). "The shipment push-out is a sign of the limited market pull we are seeing in the Data Storage segment," says chief financial officer Shubham Maheshwari.
LED & Solar revenue was $77m (82% of total revenue), roughly level with last quarter but up on $75m (76% of total revenue) a year ago. "This trend of the LED segment contributing more and more towards our overall revenue continues," says Maheshwari.
In particular, market recovery gained further momentum in metal-organic chemical vapor deposition (MOCVD) revenue of $71m, up 6% on $67m last quarter. However, molecular beam epitaxy (MBE) revenue was $6m, down 40% on $10m last quarter. Overall, weakness in MBE and Data Storage offset the growth in MOCVD.
Due to the higher MOCVD revenue, a favorable MOCVD product mix and cost-reduction activities, non-GAAP gross margin has risen from 30.8% a year ago and 32% last quarter to 35.5% (above the guidance of 31.5-33.5%). "We have been steadily improving Veeco's bottom-line performance this year by lowering our operating expenses," comments chairman & CEO John R. Peeler. Although up from $38m a year ago (38% of revenue), operating expenses have been cut from $43m last quarter to $42m (45% of revenue) as Veeco continued to see the benefit from expense reduction and business streamlining activities in Data Storage.
Net loss was $0.76m ($0.02 per share), cut from $3m ($0.08 per share) a year ago and $6.1m ($0.16 per share) last quarter, and significantly better than the guidance of $2.9-6.1m ($0.07-0.15 per share). Adjusted earnings before interest, taxes, depreciation and amortization (EBITDA) was a loss of $1.8m, level with a year ago but better than $4m last quarter. During the quarter, cash & short-term investments rose from $485m to $487m.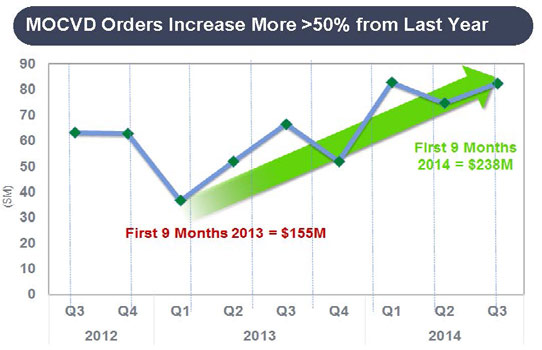 For the fourth consecutive quarter, Veeco's book-to-bill ratio was over 1 (at 1.1). Orders have grown for a third consecutive quarter, to $107m, up 3% on $104m last quarter and up 17.5% on $91m a year ago.
With no capacity purchases by hard-drive customers, Data Storage orders fell 38% from $23m (22% of total orders) last quarter to $14m (just 13% of total orders).
LED & Solar orders have risen from $73m (80% of total orders) a year ago and $81m (78% of total orders) last quarter to $93m (87% of total orders), the highest since Q3/2011.
This was driven by MOCVD orders up 23% on $66m a year ago and up 8% on $75m last quarter to $81m (due mostly to a few large deals in the two biggest regions, China and Korea). There were no order cancellations in the quarter. "We are experiencing more pull-in requests than push-outs," says Maheshwari. "Lead times for MOCVD tools have stretched a little bit as compared to the situation 6 months back."
MBE orders were the highest level this year, at $9m (all R&D-related, after winning several key deals), up on $6m last quarter.
"We also booked our prototype FAST-ALD system for development of flexible OLED displays at our key customer," says Maheshwari. "We remain heavily engaged with this customer for further product development activities," he adds.
For fourth-quarter 2014, Veeco expects revenue to rise to $100-115m. Gross margin should be steady at 34-36%. Operating expenses (OpEx) are expected to fall again, to about $41m (and should be below $40m on a quarterly basis by Q1/2015). Earnings are expected to be between a loss of $0.03 per share and a gain of $0.09 per share. Veeco is forecasting a return to EBITDA profitability in Q4 (with adjusted EBITDA of $1.7-6.7m – followed by break-even or better on a quarterly basis going forward).
"Second-half 2014 orders are currently expected to be higher than the first half, driven by growth in MOCVD, as LED unit demand and quoting activity remain strong," notes Peeler. "Veeco is making progress improving bottom-line performance through a combination of better business conditions, execution on growth initiatives, and a more streamlined company with lower operating expenses."
"We are seeing good initial traction for EPIK [the new-generation TurboDisc GaN MOCVD system launched in September], and we are expecting to ship multiple systems this quarter," says Maheshwari. "We will wait to recognize revenue for the first few units until final acceptance is achieved, as compared to recognizing revenue upon shipment for the existing products," notes Maheshwari. "Due to this reason, although we would be shipping and installing EPIK tools, we would defer revenue on the balance sheet for 1-2 quarters or so," he adds. "Our Q4 revenue guidance already incorporates this effect, and the shipments there are expected to be higher than the revenue.
"Calendar 2015 is expected to be a year of growth for our MOCVD business," says Maheshwari. "With that said, our order visibility remains less than 6 months, and that too is driven by a few customers for any given quarter. In this landscape of consolidated customers, bookings predictability remains difficult and volatile in the short-term, but steady and encouraging in the long term," he notes.
Veeco's first-half 2014 MOCVD orders up 80% year-on-year
Veeco's revenue rises 24% in Q1, driven by MOCVD recovery
Veeco's Q4 revenue falls by a third year-on-year
Veeco's Q3 revenue flat sequentially, down 25% year-on-year
Visit: www.veeco.com