7 November 2014
Aixtron receives solid-state lighting industry award from International SSL Alliance at SSL CHINA 2014
At the 11th China International Forum on Solid State Lighting (SSL CHINA 2014) in Guangzhou (6-8 November), deposition equipment maker Aixtron SE of Aachen, Germany has received the 'Award of Outstanding Achievement for Global SSL Development' from the International SSL Alliance (ISA). The ISA jury recognized Aixtron for its role in providing key foundations for the initiation and growth of the global solid-state lighting (SSL) industry.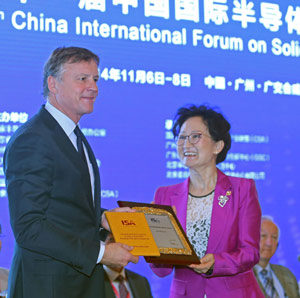 Picture: Aixtron's CEO Martin Goetzeler receives AOA Award from ISA president Wu Ling.
Previous recipients of the annual award (which recognizes companies and individuals for their achievements and contributions to global SSL development) include University of California Santa Barbara (UCSB) professor Shuji Nakamura (this year's recipient of the Nobel Prize for Physics) and University of Illinois at Urbana-Champaign professor Nick Holonyak (the inventor of the red LED).
"Over the last three decades, Aixtron has been an important bridge between research, development and the application of these technologies in the area of solid-state lighting," said Aixtron's president & CEO Martin Goetzeler in his acceptance speech. "In this period, we have successfully introduced a number of innovations supporting the successful commercialization of solid-state lighting and the transition of the general lighting industry."
With more than 3000 deposition systems delivered since 1983, Aixtron says that it has installed the majority of compound semiconductor production tools worldwide. The firm is continuing to improve production efficiency, highlighted by the introduction of the new AIX R6 Closed Coupled Showerhead next-generation metal-organic chemical vapor deposition (MOCVD) system (launched at SSL CHINA 2014).
Aixtron launches AIX R6 next-generation MOCVD system
Tags: SSL Aixtron MOCVD GaN LEDs
Visit: www.aixtron.com
Visit: www.isa-world.org
Visit: www.sslchina.org/en