3 November 2014
Aixtron's losses worsen in Q3, driven by product launch, sales mix and upfront investments
For third-quarter 2014, deposition equipment maker Aixtron SE of Aachen, Germany has reported revenue of €45.6m, down just 1.3% on €46.2m both last quarter and a year ago. The utilization rates of most tier-one LED chip makers have recently fallen, notes the firm.
Operating expenses have risen further, from €22.7m a year ago and €23.2m last quarter to €24.4m. This mainly reflects a rise in R&D expenses (from €15.5m last quarter to €16.3m) due mainly to pre-launch development costs in next-generation Showerhead metal-organic chemical vapor deposition (MOCVD) tools as well as progress made in the organic light-emitting diode (OLED) sector. Gross margin was just 14%, down on 27% last quarter and 23% a year ago.
Earnings before interest and taxes (EBIT) has worsened from an operating profit of €2.9m a year ago and an operating loss of -€10.6m last quarter to an operating loss of -€17.9m in Q3, reflecting the business environment during the quarter.
Due mainly to the losses and a scheduled increase in inventories for the next-generation MOCVD tool in advance of respective customer deposits, free cash flow has fallen further, from -€6.5m a year ago and -€17.5m last quarter to -€21.7m. Cash and cash equivalents has fallen from €306.3m at the end of 2013 to €260.5m at the end of September.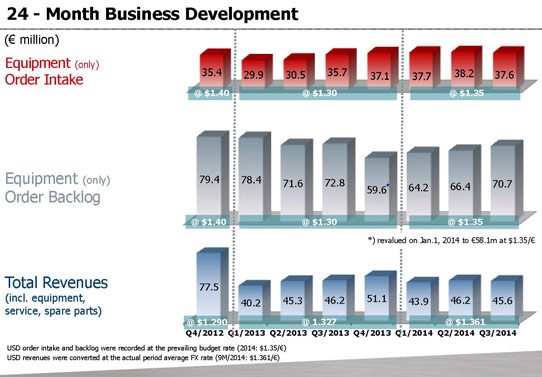 Equipment order intake was €37.6m, up 5% on €35.7m a year ago but down 2% on €38.2m last quarter. Nevertheless, although still down 3% on €72.8m a year ago, total equipment order backlog of €70.7m at the end of September was up on €66.4m at the end of June, €64.2m at the end of March, and up 21% on €58.1m at the start of 2014.
The imminent availability of more efficient, new MOCVD tool generations by the major equipment manufacturers could have a positive impact on the low levels of equipment demand, says Aixtron. In particular, at the end of September Aixtron received its largest ever multiple tool order from San'an Optoelectronics Co Ltd (China's largest LED maker). The order, for 50 next-generation Showerhead MOCVD systems, is being processed and the equipment will be delivered starting in Q4/2014, and will have a positive impact on order intake, revenue and earnings development in future quarters. "We have received this important order for our newly developed MOCVD tool from one of the world's leading LED manufacturers and the ramp-up of our production is in full swing," says president & CEO Martin Goetzeler.
"In the OLED area, we have recently received the crucial hardware for our Gen8 demonstration tool for the cost-efficient production of large-area OLEDs," says Goetzeler. "Additionally, we are experiencing a pick-up in customer interest for our non-LED technologies and applications," he adds.
"These developments are positive examples of the progress we are making in the markets we choose to address," notes Goetzeler. "On the other hand, we need to acknowledge that our customers are facing very competitive industry dynamics which could lead to further consolidation and also to continued requirements for lower total cost of ownership of MOCVD equipment," he adds. "Therefore it is extremely important for us to execute our 5-Point-Program to further reduce COGS and OPEX [operating expenses] in order to secure healthy margins and to support our dedication to return to profitability in the foreseeable future."
Aixtron's 5-Point-Program focuses on supply chain, service, R&D and production processes. A specific focus to improve gross margin is on the recently expanded and accelerated Design-to-Cost programs in order to reduce the cost of materials and components on a continuous basis.
Aixtron has reiterated its original guidance for full-year 2014 (made at the end of February) for revenue to be in line with year's (which was €182.9m). However, the firm does not expect to be profitable on an EBIT basis for full-year 2014. Nevertheless, management continues to expect a year-on-year improvement in earnings due to progress made in cost savings and restructuring.
China's San'an expands by ordering 50 Aixtron MOCVD systems
Aixtron's orders rise for fifth consecutive quarter
Aixtron's quarterly orders the highest in over two years
Aixtron's quarterly revenue rises 10% in Q4/2013, but demand remains subdued
Aixtron raises €101m from capital increase
Aixtron's recovery program improves earnings, despite growth remaining subdued
Aixtron outlines 5-Point Program to return to sustainable profitability
Visit: www.aixtron.com