30 May 2014
Toshiba expands line-up of 650V SiC Schottky barrier diodes
Toshiba Corp's Semiconductor & Storage Products Company has expanded its family of 650V silicon carbide (SiC) Schottky barrier diodes (SBDs) with the addition of insulated TO-220F-2L packaged products. Mass production shipment has begun.
The four new TRS6A65C, TRS8A65C, TRS10A65C and TRS12A65C TO-220F-2L packaged products expand the 6A-, 8A-, 10A- and 12A-rated line-up, correspondingly, of the existing TRS6E65C, TRS8E65C, TRS10E65C and TRS12E65C TO-220-2L packaged products.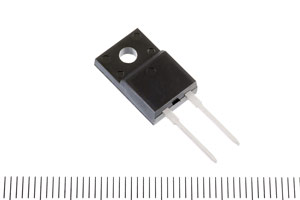 Picture: Toshiba's 650V SiC Schottky barrier diode in insulated TO-220F-2L package.
SBDs are suited to applications including server power supplies and power conditioners for photovoltaic power generation systems, says the firm. They can also act as replacements for silicon diodes in switching power supplies, where they are 50% more efficient (according to a Toshiba survey).
The firm adds that SiC power devices offer more stable operation than existing silicon devices - even at high voltages and currents - as they significantly reduce heat dissipation during operation. They meet diverse industry needs for smaller, more effective communications devices and suit industrial applications ranging from servers to inverters.
Toshiba adds 6, 8 and 10A models to 650V SiC Schottky family
Toshiba starts volume production of SiC power devices with 650V Schottky barrier diode
Tags: Toshiba SiC Schottky barrier diodes
Visit: www.semicon.toshiba.co.jp/eng/product/diode/sic/index.html