7 May 2014
Cree's TW Series LED bulb now available US-wide
Less than one year after the launch of the TW (TrueWhite) Series Cree LED Bulb in California, LED chip, lamp and lighting fixture maker Cree Inc of Durham, NC, USA is expanding the bulb's availability across The Home Depot stores US-wide. Delivering a color rendering index (CRI) of 93, the TW Series Cree LED Bulb displays colors suitable for use in kitchens, bathrooms and closets. The 40-watt replacement bulb retails for $13.97 and the 60-watt replacement bulb retails for $15.97.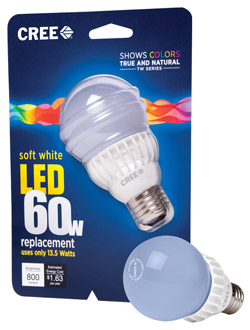 Picture: Cree's TW Series LED Bulb.
"The success of the TW Series Cree LED Bulb is proof that consumers will choose LED only when it's as good as or better than what's being replaced, with efficiency and lifetime benefits they've never had before," says Norbert Hiller, Cree's executive VP, lighting.
Designed originally to meet the California Energy Commission (CEC) LED bulb specification, the TW Series Cree LED Bulb looks and lights like a light bulb and gives consumers light quality traditionally reserved for specialty areas, such as high-end retail stores, Cree says. The bulb emits a warm, natural omnidirectional light that makes colors look the way they were intended to look, the firm claims, which is beneficial for not only residential applications but even those in the arts and entertainment industries.
"The TW Series Cree LED Bulb produces a soft, vibrant light with a high CRI, which is key to setting comfort levels on a movie set, and also assures accurate skin tone on film," says Hollywood director and producer Jesse Peretz. "Using a bulb like the TW Series Cree LED Bulb — at home or on the set — improves color accuracy and lets you see colors like they were intended to be seen," he adds.
The TW Series Cree LED Bulb uses 78% less energy and lasts 25 times longer than typical incandescent light bulbs, Cree reckons. The bulbs turn on instantly, are dimmable with most standard incandescent dimmers, and are backed by the firm's 10-year limited consumer warranty.
Cree's new TW Series LED bulb first to meet California Energy Commission specification
Visit: www.homedepot.com/cree
Visit: www.creebulb.com