24 March 2014
Moapa Paiute Tribe, LADWP and First Solar break ground on 250MW project
US Senate Majority Leader Harry Reid (NV) joined representatives from the Moapa Band of Paiutes, executives from cadmium telluride (CdTe) thin-film photovoltaic modules First Solar Inc of Tempe, AZ, USA and the Los Angeles Department of Water and Power (LADWP), as well as other community, government and energy industry leaders to celebrate the start of construction of the 250MWAC Moapa Southern Paiute Solar Project. The project is located on the Moapa River Indian Reservation just north of Las Vegas, and has a power purchase agreement (PPA) with the LADWP to deliver solar energy for 25 years to the City of Los Angeles.
"The Moapa Southern Paiute Solar project is the first utility-scale solar project on tribal land and will deliver much needed economic benefits to the Tribe and Nevada," says Reid. "It will also create about 400 construction jobs."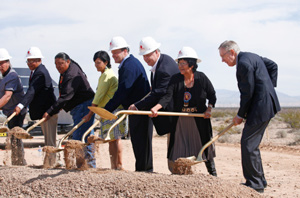 Picture: (From right to left) US Senate Majority Leader Harry Reid joins Moapa Band of Paiutes chairwoman Aletha Tom, First Solar's CEO James Hughes, LADWP's director of power system planning and development Randy Howard, and the Moapa Band of Paiutes Tribal Council to break ground on the 250MW Moapa Southern Paiute Solar Project.
The power plant, anticipated to be fully operational by the end of 2015, is expected to generate enough energy to serve the needs of more than 93,000 homes, displacing about 313,000 metric tons of carbon dioxide (CO2) annually (equivalent to taking about 60,000 cars off the road).
The project will play a key role in LADWP's efforts to expand renewable energy to 33% of its total power supply and to eliminate coal power. The Moapa plant will contribute 2.4% toward LADWP's renewable energy portfolio. This transformational goal also includes reducing energy use by at least 10% through energy-efficiency measures; expanding local solar and other forms of distributed generation; initiating a robust demand-response program; and rebuilding local power plants to better integrate renewable energy and be more flexible to meet peak demand.
"The Moapa Southern Paiute Solar Project is a significant step toward the Los Angeles Department of Water and Power's effort to achieve a major transformation of the city's power supply - one that has greater reliance on renewable energy resources and zero coal power," says LADWP's general manager Marcie L. Edwards.
For the Moapa Band of Paiutes, the utility-scale solar project is an opportunity for the Tribe to create economic opportunities while preserving the land and their cultural heritage. "This will help to create a model for other Tribes to follow," reckons Aletha Tom, chairwoman of the Moapa Paiute Tribal Council. "Tribes across the nation have the available land on which to build them."
Moapa Southern Paiute Solar LLC (a subsidiary of First Solar Electric LLC) is the project owner and will construct the project using First Solar's modules. It will be built on 2000 acres of land on the Moapa River Indian Reservation and include an onsite substation and a new 5.5 mile 500kV transmission line that will connect the project to the existing Crystal Substation, serving energy users in California.
Once the Moapa Southern Paiute Solar facility becomes fully operational, LADWP will be able to repurpose existing transmission systems that currently bring high-carbon coal power from Navajo Generating Station. The Moapa plant, along with a second utility-scale solar power plant in that region of Nevada, will enable LADWP to stop receiving coal power from the Navajo plant by the end of 2015, four years before it is required by California state law - reducing greenhouse-gas emissions by 8.4 million metric tons (MMT) between 2014 and 2019 cumulatively. The energy from the two solar power projects in Nevada will contribute over 4% to LADWP's goal of 33% renewable energy by 2020.
Tags: First Solar Thin-film photovoltaic CdTe
Visit: www.firstsolar.com