26 March 2014
Cree breaks 300lm/W efficacy barrier for white LEDs
LED chip, lamp and lighting fixture maker Cree Inc of Durham, NC, USA has raised its previous R&D industry record for white high-power LED luminous efficacy from 276 lumens per watt (announced in February 2013) to a new record of 303 lumens per watt. The firm says that it has surpassed the new landmark of 300lm/W much faster than previously believed possible.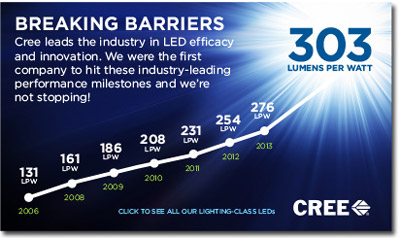 "Achieving this level of LED efficacy amplifies the potential for the solid-state-lighting industry to deliver smaller, lower-cost lighting solutions, and even larger-than-expected energy savings," comments Steven DenBaars, professor and co-director of the Solid State Lighting and Energy Center at University of California, Santa Barbara (UCSB).
Cree reports that the 303lm/W efficacy was measured at a correlated color temperature (CCT) of 5150K and a drive current of 350mA. Standard room temperature was used to achieve the results.
"We continue the pursuit of 100% LED adoption," says John Edmond, Cree's co-founder & director of advanced optoelectronics. "Pushing the boundaries of LED performance is critical to enhancing LED lighting designs, and this 303 lumens-per-watt result will enable more cost-effective lighting solutions."
Cree sets luminous efficacy record of 276lm/W for white R&D power LED

Visit: www.cree.com