3 June 2014
Peregrine unveils new UltraCMOS challenge against GaAs
Peregrine Semiconductor Corp of San Diego, CA, USA has unveiled a new line of UltraCMOS monolithic phase & amplitude controllers (MPAC) for Doherty amplifiers used in wireless base-station transmission. The company presented its devices at the IEEE International Microwave Symposium (IMS 2014) in Tampa, FL, USA on 3 June.
"Doherty architectures have long been plagued by difficulties in optimizing performance, which leads to higher manufacturing and engineering costs," comments Duncan Pilgrim, Peregrine's vice president of marketing. "MPAC provides an ideal solution for this RF challenge and does so monolithically through intelligent integration — something gallium arsenide (GaAs) technologies could never achieve," he adds. "Once again, Peregrine is introducing a superior UltraCMOS product that will disrupt GaAs-based alternatives."
The Peregrine device aims to improve system performance, lower costs, increase reliability and provide maximum tuning flexibility.
Peregrine has previously used its UltraCMOS technology to compete strongly against GaAs-based switch devices. Last year, the company also developed a transmit power amplifier for mobile handsets with the plan of challenging GaAs devices in the high end of that market.
Doherty amplifiers combine two amplifier paths: one for the carrier and the other for peaks (Figure 1). Such architectures give high power-added efficiency (PAE), reducing power consumption, along with improved linearity across the wireless communication frequency range. Also, the asymmetric Doherty architecture is attractive for amplifying signals with high peak-to-average ratios (PARs) such as in the 4G LTE and LTE-A standards. However, Doherty amplifiers often need laborious manual tuning to achieve good performance.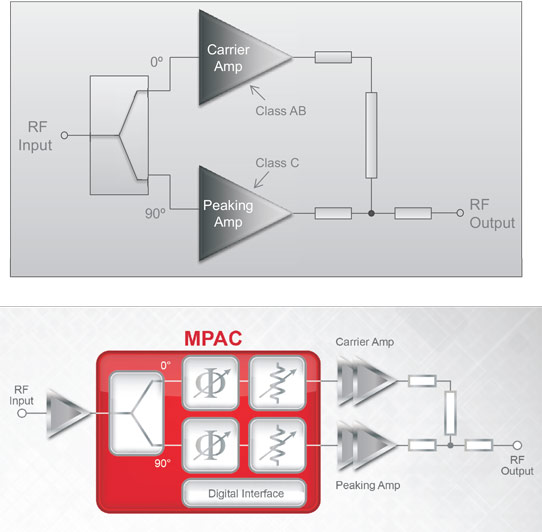 Figure 1: (top) Block diagram of Doherty amplifier circuit. (bottom) Insertion point of Peregrine MPAC device.
Peregrine's MPAC is claimed to be the industry's first monolithic solution to maximize asymmetric and symmetric Doherty amplifier performance. The device includes digital step attenuators and phase shifter intellectual property in the single-chip design.
The company sees its MPAC as being used for either laterally diffused metal oxide semiconductor (LDMOS) or gallium nitride (GaN) Doherty power amplifier architectures. The device provides flexibility in real-time, allowing systems to cope with operational or environmental changes.
The first products for the 1.8−2.2GHz range (PE46120) are being sampled by "select customers". The company plans to cover all cellular frequency bands in the future.
Peregrine sees a compound annual growth rate of 14% in the total available market for MPAC products over the period 2014−2018 ($15.5−26.5m), as projected by Mobile Experts LLC. Starting with customers such as Ericsson, Peregrine believes it could service that market by 2018 with sales of $29.7m, even in excess of Mobile Experts's $26.5m projection.
Peregrine sees its component competing very favorably against a competitor's controller module that contains three (GaAs) and one CMOS chip (Table 1).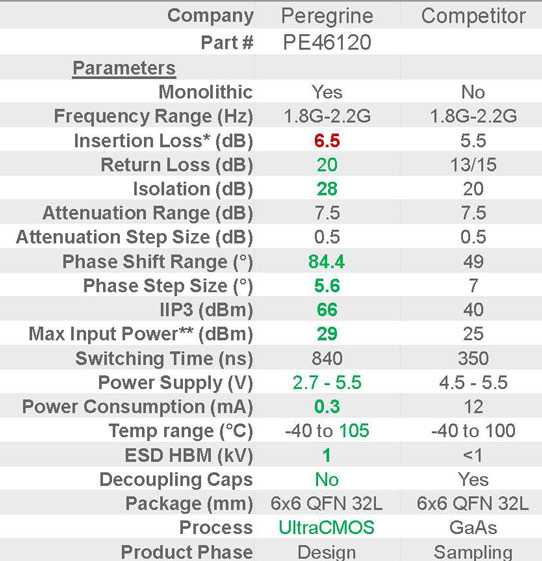 Table 1: Comparison of Peregrine with competing GaAs/CMOS module.
"The longer switching time of our device is not a critical problem, because these setups are only performed during an initial set-up and calibration phase for the equipment, so a few nanoseconds are not an issue," comments Mark Moffat, managing director of Peregrine Semiconductor UK. "By contrast, the higher input power capability is a significant advantage for Peregrine because it allows the customer to run the system at a higher signal level, allowing superior signal-to-noise ratio in their system," he adds. "The ~1.25x insertion loss factor is not a big disadvantage. The customer has to re-design their signal path line-up anyway (loss for a conventional passive system is approximately 3.5-4dB, including the power split), so our customers say that whether they design for a 5.5dB loss or a 6.5dB loss is not material."
Peregrine plans to "set the bar very high" against existing competition and new entrants to the market from companies such as Freescale, NXP, Skyworks, RF Micro Devices, M/A-COM, Hittite or TriQuint. These companies have a range of silicon-on-insulator (SOI), GaN, GaAs, and silicon germanium (SiGe) technologies that might be implemented in an MPAC solution.
Further advantages Peregrine points to are "superior" electrostatic discharge (ESD) protection up to 1kV and support for 105°C temperature operation.
Visit: www.psemi.com
The author Mike Cooke is a freelance technology journalist who has worked in the semiconductor and advanced technology sectors since 1997.