24 January 2014
Nikkiso setting up deep UV LED production plant
Tokyo-based Nikkiso Co Ltd, which is developing and commercializing deep ultraviolet (UV) light-emitting diodes, says that it is establishing a new factory in Japan's Ishikawa Prefecture. The firm aims to start production in mid-2014 and install annual capacity in excess of 1 million units for its UVB and UVC LED illumination sources.
Nikkiso will introduce its new deep UV LED product line for the first time in North America in booth 4918 at SPIE Photonics West 2014 in San Francisco (4-6 February), exhibiting products with wavelengths of 255-350nm, including several power levels and package types to enable key applications in a wide variety of sectors. Those with immediate demand include surface curing of resins and inks, biomedical instrumentation, dermatology, air purification, and water and surface sterilization.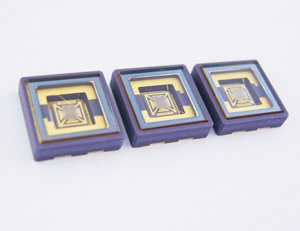 Picture: Nikkiso's deep UV LED package.
Nikkiso says that proprietary aluminium gallium arsenide (AlGaN) technology allows its UVB and UVC LEDs to offer substantial advantages over UV lamps, including mercury-free operation, compact and lightweight form factor, flexible emission wavelength, directional illumination, instantaneous analog power control via current modulation, and low-voltage operation. Power levels up to 40mW per package are available, with customized multi-chip assemblies capable of emitting more than 1W. The devices can be used in standalone light sources, or integrated seamlessly as OEM components into end-customers' final product solutions.
Nikkiso's new factory has a total floor area of 1500m2 and production technology that enables mass manufacturing on a commercial basis. This includes new epitaxial equipment, wafer fabrication, and clean room facilities for volume manufacturing of deep UV LEDs.
Representing a $22m investment in Nikkiso's deep UV LED business, the firm says that the production plant will ensure the stable supply of deep UV LED products to its partners, accelerating the development of deep-UV LED applications.
Tags: DUV LEDs
Visit: www.nikkiso.com