20 February 2014
Cree extends XSP Series street-light performance to outdoor area lighting
Cree Inc is expanding its outdoor lighting portfolio with the XSP Series Area LED luminaire and the XSPW Wall Pack LED luminaire. Leveraging innovations from the XSP Series LED street light, the new luminaires are said to cut energy consumption by 65% (compared to metal halide wall packs and 400W probe start metal halide luminaires) and nearly eliminate maintenance costs to easily replace the millions of outdated HID luminaires currently installed in North America.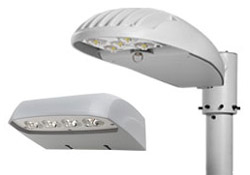 "The Cree XSP Series Area and XSPW Wall Pack luminaires represent the latest examples of Cree's mission to replace inefficient technologies with LED alternatives that provide the price, quality and energy savings that dramatically improve the lighting experience and save customers money," says Norbert Hiller, executive VP, lighting. "These new luminaires provide high-performance, nearly-maintenance-free lighting for up to 100,000 hours, ending the need for compromised metal halide alternatives."
Featuring Cree's NanoOptic Precision Delivery Grid optic technology, the new luminaires deliver better optical control and more uniform, white light than metal halide fixtures, it is claimed. Both the XSP Series Area LED luminaire and the XSPW Wall Pack LED luminaire offer multiple mounting and optical options to support a variety of installations and applications. Both are backed by Cree's 10-year limited warranty.
The luminaires are sold through Cree lighting sales channels throughout the USA and Canada.
Visit: www.cree.com/lighting/xspwall
Visit: www.cree.com/lighting/xsparea