1 December 2014
Solar Frontier's CIS PV modules powering brewery
Tokyo-based Showa Shell Sekiyu subsidiary Solar Frontier – the largest manufacturer of CIS (copper indium selenium) thin-film photovoltaic (PV) solar modules – has completed installation of its CIS solar modules at a Japanese sake brewery on Sado Island, Japan. Using a building that until four years ago housed an elementary school, the modules will be used to make Obata Brewery's new 'Gakko Gura' (School Cellar) brew.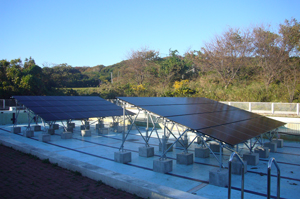 Picture: Solar Frontier's CIS PV modules in the emptied swimming pool of the former school of Obata Brewery's 'Gakko Gura' project.
As part of its 'Gakko Gura Project', Obata Brewery is leasing the former school building from Sado City. Sado City and IR3S (the University of Tokyo Integrated Research System for Sustainability Science) have partnered with Showa Shell Sekiyu K.K. (Solar Frontier's parent company) and Obata Brewery to complete the project. The 10kW system is installed in the emptied swimming pool of the former school and will provide 20% of the energy needed to power the brewery.
"This project is the embodiment of our mission to help achieve local production for local consumption," says Solar Frontier's CEO Atsuhiko Hirano. "This is a model initiative for local governments everywhere to build a low-carbon society."
Solar Frontier says that its modules were selected for the Gakko Gura initiative because of their power output in real-world conditions. Sado Island has a relatively low amount of sunlight and, especially under these conditions, Solar Frontier's CIS modules can provide a higher energy output than its competitors, it is claimed. The modules are already proven in the Niigata region at the Yukigunigata Megasolar installation.
Solar Frontier says that it will continue to focus on collaborations with industry, academia and government, promoting distributed energy generation model initiatives rooted in local regions.
Tags: Solar Frontier CIS
Visit: www.solar-frontier.com