30 April 2014
Soraa's full-visible-spectrum LED MR16 lamps receive ENERGY STAR label
Soraa Inc of Fremont, CA, USA, which develops solid-state lighting technology built on 'GaN on GaN' (gallium nitride on gallium nitride) substrates, says that eight of its MR16 products have been recognized with the ENERGY STAR qualification from the US Environmental Protection Agency (EPA), the first full-visible-spectrum LEDs to attain this qualification. The ENERGY STAR label certifies that Soraa's MR16 products have met the stringent energy-efficiency standards and performance criteria established by the EPA.
Soraa products already qualify for a wide range of rebate programs based on their color rendering and energy efficiency. With the ENERGY STAR label, the LED lamps now qualify for additional utility rebate programs nationwide.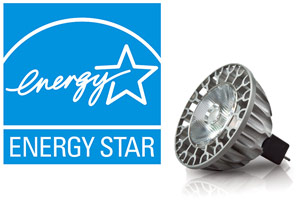 Picture: Soraa's full-visible-spectrum LED MR16 lamp, now with ENERGY STAR label.
Soraa will roll out its full portfolio of energy-efficient, full-visible-spectrum products through the rest of 2014.
All Soraa LED lamps feature violet emission with three phosphors that enable benefits such as VP3 (Violet 3-Phosphor) Natural White and VP3 Vivid Color, revealing the whiteness and colors in every environment, and Point Source Optics for uniform beams of high intensity.
Soraa launches high color temperature, full-visible-spectrum Vivid 2 MR16 LED lamps
Tags: Soraa GaN-on-GaN
Visit: www.energystar.gov
Visit: www.soraa.com