7 April 2014
Solar Frontier and Chopro to build and operate Nagasaki Prefecture's largest solar power plant
Tokyo-based Solar Frontier – the largest manufacturer of CIS (copper indium selenium) thin-film photovoltaic (PV) solar modules – and Chopro Co Ltd have signed a letter of agreement with the Nagasaki Prefectural Government and the Land Development Public Corporation of Nagasaki Prefecture regarding the construction and operation of a 29.1MW solar power plant on 35.1ha of leased land adjoining Nagasaki Airport, Japan. The project will be the largest in Nagasaki Prefecture and one of the largest in Japan.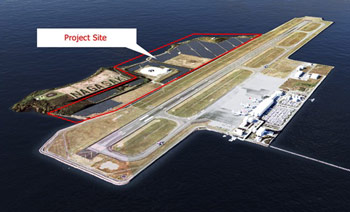 Picture: Graphic rendering of Nagasaki Airport solar project.
"We now look forward to working on one of the world's largest installations at an airport – at home in Nagasaki," says Kenji Araki, representative director at Chopro. Chopro is a liquefied petroleum gas (LPG) distributor and more recently a solar power producer headquartered in Nagasaki Prefecture.
"Our Nagasaki project integrates the economical advantages of Solar Frontier's CIS solar energy system solutions, from supplying high-performance CIS modules through to operation & maintenance, with Chopro's expertise as an energy supplier local to Nagasaki," says Hiroto Tamai, Solar Frontier's president & representative director. "Together with leading regional companies like Chopro, we will continue to meet the high demand for solar projects that offer competitive and reliable returns on investment," he adds.
After the Kansai International Airport Megasolar Power Plant (completed in late January), this will be the second large-scale installation at an airport that leverages Solar Frontier's CIS thin-film technology. The firm claims that, compared with crystalline silicon modules, its CIS modules have a higher electricity yield (kWh/kWp) in real operating conditions. Also, their anti-glare properties ensure that they do not affect aircraft operations.
The Nagasaki Prefectural Government announced its partner selection on 27 December 2013, as part of its 'Nagasaki Green New Deal' solar and renewable energy initiative. In addition to working with local companies, a pre-determined percentage of proceeds from this project will go to Nagasaki Prefecture to support its economic growth.
Tags: Solar Frontier CIS
Visit: www.solar-frontier.com