8 April 2014
Osram unveils first flush-mountable infrared LED, giving smartphones and tablets remote control functionality
Osram Opto Semiconductors GmbH of Regensburg, Germany has unveiled what it claims is the first flush-mountable infrared LED, enabling remote control functionality to be incorporated in a lower profile than ever before. The compact (3.1mm x 1.5mm x 1.5mm) side-looking T-shaped SFH 4140 Midled offers high radiant intensity and protrudes only fractions of a millimeter from a 0.3mm-thick board. An IR transmitter can therefore now be integrated in extra-thin smartphones or tablet computers.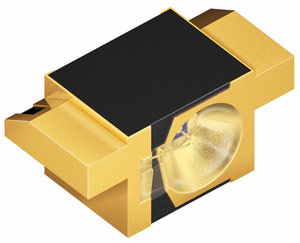 Picture: The T-shaped SFH 4140 Midled, which protrudes only 0.6mm above and below the board.
Osram Opto has succeeded in sinking a surface-mountable infrared LED in a printed-circuit board for the first time. "We want to enable our customers to install a powerful infrared transmitter even if there is very little height in the device to work with," says Bianka Schnabel, who is responsible for the product at Osram Opto. "We have therefore developed a transmitter that disappears almost entirely into the board. Only 0.6mm extends above and below the board. That saves plenty of height."
High output from extremely small space
The T-shaped transmitter takes up only 4.6mm2 of board space and emits a powerful focused beam to the side. The beam angle of ±25° is created by an integrated reflector – an advantage in terms of space requirements. The SFH 4140 produces 50 milliwatts per steradiant (mW/sr) as its typical radiant intensity from a drive current of 100mA, so it achieves the ranges needed for remote control functions. The wavelength of 940nm is also suitable for meeting the requirements of this application.
Smartphones and tablet computers as remote controls
Osram Opto says that the new LED is its contribution to the trend of turning smartphones and tablet computers into universal remote controls, particularly for home entertainment electronics. If the device is equipped with the appropriate IR transmitter diode, then the diode can be controlled with a suitable app. Whereas classic remote controls traditionally use radial infrared LEDs, this option is not attractive for slim smartphones and tablets. These need a low-profile SMT solution that can nevertheless operate over the required distance. Up to now, manufacturers have been using transmitters such as Midled, Mini Midled and Chipled. The T-Midled SFH 4140 is Osram Opto's latest addition to its portfolio of remote control transmitters, providing a no-compromise low-profile solution for which there will almost always be sufficient space, the firm reckons.
Visit: www.osram-os.com