24 April 2014
Everlight introduces ultra-thin 940nm IR LED in small MIDLED package
Everlight Electronics Co Ltd (Taiwan's largest LED assembly manufacturer) has launched the IR92-01C/L491/2R ultra-thin 940nm-wavelength top-view infrared LED in a miniature MIDLED package. The small SMD surface-mount device has been developed for applications where high power output, narrow beam angle or available space is of concern.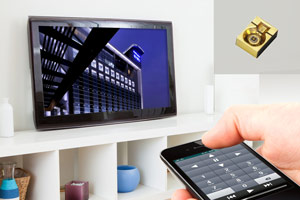 Picture: Everlight's SMD top-view MIDLED package IR92-01C/L491/2R.
The 940nm IR topled comes in a 2mm x 1.4mm MIDLED package with an ultra-low thickness of 0.7mm, making it suitable for space-constrained end-products such as tablets, smart-phones etc. Along with a low forward voltage of 1.3V at a drive current of 20mA, a high output power of 25mW/sr at 70mA, and a narrow viewing angle of 45° for higher output intensity without lens, Everlight's IR92-01C Series is suited to IR data transmission applications such as remote controls, proximity and optical touch sensors, night-vision cameras or high-tech touch panels. Other applications include light curtains or barriers, turbidity sensors and coin counters.
The IR92-01C Series in a MIDLED package is Pb-free, halogen-free and RoHS-compliant. Samples are available now, upon request.
Everlight adds two IRLEDs for remote controls and optical touch panels
Everlight launches HIR LEDs for proximity-sensors and high-tech intelligence touch panel applications
Visit: www.everlight.com