7 October 2013
Seoul Semiconductor selling Acrich2 AC LED modules in kit form for customized form factors
South Korean LED maker Seoul Semiconductor has announced the globally availability of an Acrich kit for customers trying to meet the special design requests of global lighting manufacturers. The kits consist of high-voltage Acrich Multi-Junction Technology (MJT) LEDs along with the Acrich Integrated Circuit (AIC) power controller device. Designers now have maximum flexibility in designing AC LED modules for their unique fixture needs, says the firm.
Seoul Semiconductor says that it has released the Acrich kit due to a surge in requests from customers wanting to create their own form factors. Most mid- to large-sized lighting customers have their own SMT lines and the ability to source and handle discrete parts, so they prefer to purchase a parts kit rather than a module, says Seoul Semiconductor. Acrich2 kits bring increased efficiency and convenience over traditional AC designs for those manufacturing solid-state lighting solutions, claims the firm. With high power factor, low electro-magnetic interference (EMI) and low total harmonic distortion (THD), the Acrich kit can be driven directly from AC line voltages of 100-277V, and the AIC is available with a smart dimming function.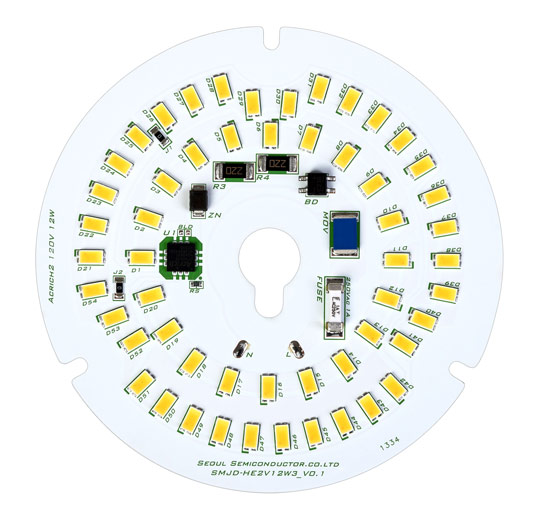 Picture: Seoul Semiconductor's 10W Acrich2 module.
Seoul Semiconductor says that in recent months it has dramatically improved the performance of its Acrich2 family. In September, the firm announced a 10W ceiling light module with luminous efficiacy of 140lm/W, demonstrating the increase in efficiency from using Acrich 2 modules. The firm says that Acrich2 modules extend the lifetime of the fixture and extend the form factor possibilities by replacing the AC/DC converter (or ballast or driver) with the Acrich IC.
"We have seen a surge of interest in Acrich recently due to its performance improvement," says VP of marketing Marten Willemsen. "The new sales strategy to offer Acrich kits is in direct response to the requests from customers," he adds. "For broadening our targets and serving the broader global lighting market, Seoul Semiconductor is now promoting our products through Acrich kit sales at new price points."
Seoul Semiconductor boosts Acrich2 module efficacy to 140lm/W
Tags: Seoul Semiconductor LEDs
Visit: www.seoulsemicon.com/en