18 October 2013
China's San'an to overtake Epistar in GaN LED wafer capacity by end 2014
China-based chip maker San'an Optoelectronics Co Ltd is projected to take the lead in gallium nitride (GaN) LED wafer capacity by the end of 2014, overtaking current leader Epistar Corp of Taiwan, according to market research firm IHS Inc.
While Epistar is forecast to continue its spot at the pinnacle in 2013 and through most of 2014, its run at the top will end sometime in fourth quarter 2014 when San'an takes over, forecasts IHS.
Wafer capacities are calculated based on tracked installations of metal-organic chemical vapor deposition (MOCVD) systems, and San'an's potential lead is dependent on a planned installation of new machines in 2014. "The second-phase fab of San'an in Wuhu, China is ready for another 100 GaN LED MOCVD tools in addition to the 100 that had been installed in 2011," says Alice Tao, senior analyst for LEDs and lighting at IHS.
Altogether, San'an could reach 10.8% of wafer capacity by fourth-quarter 2014 in 2"-equivalent wafer capacity, followed by Epistar with a forecast 10.1%, LG Innotek with 6.8%, and Samsung LED with 6.1%.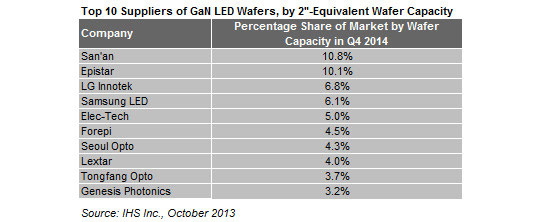 However, the rankings could change depending on what is being measured, notes IHS. For instance, Epistar remains the top manufacturer for yielded die and binned die, even by the end of 2014. Also, companies such as Nichia of Japan, Osram of Germany, North Carolina-based Cree and California-based Philips Lumileds rank high in terms of actual revenue when utilization rates and pricing are considered, even though the four makers are not in the top-five when it comes to unprocessed wafer capacity.
While San'an's capacity is double that of any other China-based manufacturer, others in China, such as HC Semitek, Elec Tech and Focus Lightings, are also expanding capacity. This is true despite continued overcapacity in the industry and even if some China manufacturers have been less than successful, says IHS.
China was the primary destination in 2012 for most MOCVD system shipments. The country's prominence in the market appears uncontested for the short term, accounting for 80% of shipments in 2013 and 85% in 2014. In comparison, shipments and orders will be low in other regions. As a result of both these factors, China-based firms are predicted to increase their overall share of the market.
Many China manufacturers had jumped into the market or had expanded their capacities in 2011 when subsidies from local governments were available. However, most top suppliers continue to be based in other areas, including the western hemisphere South Korea, Taiwan and Japan – with many of these holding the strongest intellectual property (IP) portfolios, notes IHS.
Outside Asia, Chinese companies are not particularly strong. For example, no Chinese manufacturerers appear in the top-10 for packaged LEDs. This makes the anticipated rise of San'an to the top in wafer die capacity by the end of 2014 even more striking, IHS concludes.
Tags: Sanan OptoElectronics GaN LEDs
Visit: www.sanan-e.com/en
Visit: www.ledmarketresearch.com/report/