28 October 2013
Ascent Solar introduces EnerPlex Surfr, battery & solar case for Samsung Galaxy S4
Ascent Solar Technologies Inc of Thornton, CO, USA, which makes lightweight, flexible copper indium gallium diselenide (CIGS) thin-film photovoltaic modules that it integrates into its EnerPlex series of consumer products, has introduced its Surfr solar and battery case for the Samsung Galaxy S4.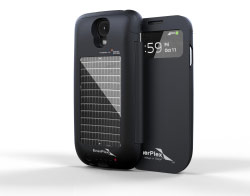 Picture: EnerPlex Surfr case for Galaxy S4.
The EnerPlex Surfr case for Galaxy S4 comes in multiple colors, and is enabled by the lightweight, thin and highly customizable form factor of Ascent's proprietary CIGS solar cells. Paired with an ultra-thin 2500 mAh lithium-ion battery, the EnerPlex case provides not only protection to the smartphone but hours of additional audio, web and talk time for consumers.
"With 40 million S4's already sold since the product's debut, we feel the Surfr Solar & Battery case is the perfect complementary accessory for this wildly successful smartphone, opening the EnerPlex brand to an even wider audience of smartphone users," says Ascent Solar's president & CEO Victor Lee
EnerPlex Surfr for Galaxy S4 will be available for sale in mid-November.
Tags: Ascent Solar EnerPlex CIGS
Visit: www.AscentSolar.com