30 May 2013
TriQuint launches RF chipsets for wireless backhaul microwave radios
RF front-end component maker and foundry services provider TriQuint Semiconductor Inc of Hillsboro, OR, USA has introduced 12 new products and highlighted two complete RF chipset families for 15GHz and 23GHz point-to-point (PtP) radios serving 3G/4G cellular backhaul and related applications.
Released in conjunction with the 2013 IEEE MTT-S International Microwave Symposium (IMS) in Seattle, WA, USA (4-6 June), the new products include high-performance packaged amplifiers, up-converters/down-converters and voltage-controlled oscillators (VCOs) as well as additional devices to support PtP RF requirements at 10-27GHz, all in 5mm x 5mm QFN packages.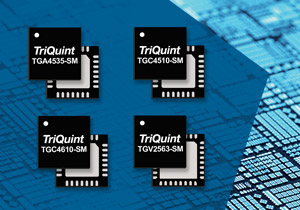 Picture: TriQuint's new family of RF chipsets for 23GHz PtP radio.
Mobile network traffic generated by smartphones, tablets and other devices is increasing exponentially, says TriQuint, making high-speed solutions that 'backhaul' data across wireless networks essential to seamless connectivity. Cisco's Virtual Networking Index notes that in 2012 global mobile data traffic grew by more than 70% compared to 2011 and predicts that it will grow at an annual rate of 66% through 2017. "Point-to-point radio plays a vital role in sustained mobile network growth," says James L. Klein, VP & general manager for Infrastructure and Defense Products. "TriQuint's leadership in high-frequency solutions now includes complete RF chipsets that simplify design and improve performance," he adds.
Microwave radios linking base-stations and central switching hubs provide an excellent backhaul solution, says TriQuint, adding that the radios are comparatively easy to install and inexpensive to maintain. Especially at higher microwave and millimeter-wave frequencies, they have broad channel bandwidths to enable very-high-speed data throughput.
TriQuint says that its new 15GHz and 23GHz chipsets provide OEMs with a single-source, surface-mount RF solution. The products are offered alongside TriQuint's larger family of PtP solutions, which cover 10-16GHz and 17-27GHz.
Tags: TriQuint
Visit: www.triquint.com
Visit: http://ims2012.org