14 May 2013
Peregrine introduces new SPDT RF switch for space flight applications
Peregrine Semiconductor Corp of San Diego, CA, USA, a fabless provider of radio-frequency integrated circuits (RFICs) based on silicon-on-sapphire (SOS), has introduced a new SPDT RF switch for harsh environment and space applications.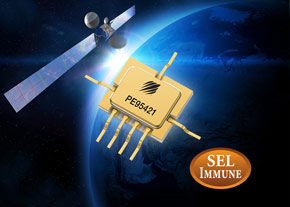 Picture: Peregrine's new SPDT RF switch.
Manufactured on Peregrine's UltraCMOS technology, the PE95421 switch is highly resistant to total dose and single event radiation effects, resulting in improved product reliability, as well as stable, and predictable, performance over the life of the mission, says the firm. The switch features HaRP technology enhancements for high linearity of 60dBm IIP3. It is suitable for applications such as RF switch matrices, antenna arrays, and RF communication systems, with an operating frequency up to and including the C-band in commercial satellites, manned spacecraft, and high-altitude aircraft.
"We are pleased to introduce a new RF SPDT switch to meet the unique requirements of harsh environment and space applications," said Dave Shepard, VP of Peregrine's High-Performance Solutions business unit. "This new device expands our existing line of rad-hard switches, frequency synthesizers, prescalers, and DC-to-DC converters for this market."
As a result of the inherent physical properties of the highly-insulating sapphire substrate, devices manufactured on UltraCMOS technology are naturally immune to radiation-induced latchup, says the firm. Further design enhancements ensure low levels of performance drift under total dose conditions up to 100 krads (ELDRS free). The PE95421 switch features low-complexity, single-pin 3.3V CMOS logic control in a single chip. It has low insertion loss ranging from 0.77dB @ 100MHz to 1.38dB @ 8500MHz, and high isolation ranging from 86.5dB @ 100MHz to 27.8dB @ 8500MHz. Low power consumption of 3.3 microWatts at 3.3V and high ESD tolerance up to 1000V HBM further enhance the ease-of-use of this device.
Peregrine has also announced availability of the PE95421 Evaluation Kit (part # PE95421-00), to enable designers to evaluate the PE95421 switch in their applications.
The PE95421 switch is available in a 7-lead hermetically-sealed CQFP package, or in die form.
Tags: Peregrine SPDT RF switch
Visit: www.psemi.com