14 May 2013
Cree introduces first commercially available SiC six-pack power module in an industry standard 45mm package
Cree Inc of Durham, NC, USA is introducing what it says is the first commercially available silicon carbide (SiC) six-pack power module in an industry standard 45mm package.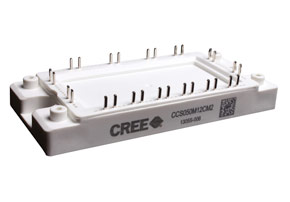 Picture: Cree's SiC six-pack power module.
When replacing a silicon module with equivalent ratings, Cree's six-pack module can reduce power losses by 75%, which leads to a 70% reduction in the size of the heat sink or a 50% increase in power density, says the firm. When compared to state-of-the-art silicon modules, the SiC 1.2 kV, 50A modules deliver performance equivalent to silicon modules rated at 150A.
"The efficient switching of the SiC module allows us to use them with significantly less derating than silicon IGBTs," said Dr. Jun Kang, research and applications manager, Yaskawa America, Inc. "This feature enables significantly higher frequency operation, which both increases fundamental output frequency and reduces passive component size in the motor drive."
"Cree's SiC power module family can also provide significant benefits to applications such as solar inverters, uninterruptible power supplies (UPS) and industrial power supplies," said Mrinal Das, product marketing manager, Cree Power and RF. "Even when designers simply substitute Si modules with SiC in motor drive applications, the improved performance of SiC reduces power losses, leading to reduced cooling requirements and, in turn, to a reduction in size, weight, complexity and the overall cost of the power electronics system."
Visitors to the PCIM 2013 conference (May 14–16) in Nuremburg, Germany, can learn more about the new six-pack module at Hall 7, Booth 210.
Visit: www.cree.com