21 March 2013
SEMI-GAS mini gas enclosure provides safe, continuous gas delivery for small process and purge gas cylinders
SEMI-GAS Systems, a division of Applied Energy Systems Inc of Malvern, PA, USA and a manufacturer of ultra-high-purity gas handling and distribution systems, is offering the Xturion MGE-X, a mini gas enclosure that provides safe and continuous gas delivery from small process and purge gas cylinders.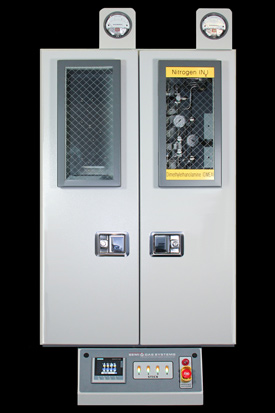 The MGE-X suits low-volume applications or where space is limited. But, despite its size of just 69" high by 32" wide by 27" deep, the MGE-X includes all of the operational and safety features required for two complete source systems, with four process and purge cylinders.
The MGE-X includes two separate compartments, each designed for a process cylinder and a purge cylinder. The system is also available in a single-source design, with one empty compartment that is expandable for future applications. To provide a flexible, custom tailored fit-up, each unit comes equipped with adjustable steel shelves and cylinder straps as well as adjustable back mounted exhaust ducts.
The system features a SEMI-GAS GigaGuard GSM controller, which continuously checks system conditions for alarms and performs an automatic shutdown in the event of a risk. The 4.3" color touch-screen includes intuitive operating prompts, making cylinder changes and status monitoring easy and seamless.
All MGE-X systems meet SEMI S2 and uniform fire-code requirements and are equipped with UL-approved fire sprinklers and ¼" safety glass windows.
The MGE-X enclosure is constructed of welded 11 Ga steel and includes reinforced rear mounting holes for wall installations. A welded steel rack option is also available for free-standing applications. Self-closing and lockable doors and windows, as well as a steel cylinder divider plate, are standard MGE-X safety containment features for hazardous production materials. The system's internal manifold components are orbitally welded, helium leak tested and certified to the highest purity standards.
"Our MGE-X system was designed to give customers a miniature option for gas delivery," says Jim Murphy, division manager of SEMI-GAS Systems. "People are accustomed to compact technologies and place a high value on space. MGE-X is our solution for ultra-high-purity, safe delivery of hazardous gases within high-value, compact spaces."
Tags: SEMI-GAS Gas delivery systems
Visit: www.semi-gas.com