19 March 2013
Samsung introduces mid-power LED package with 160lm/W efficacy
Samsung Electronics Co Ltd of Seoul, South Korea has begun producing a new lineup of middle power LED packages, which the firm says offer the industry's highest efficacy level.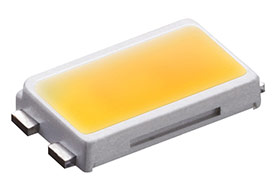 Picture: Samsung's middle power LED package.
Ideal for LED lighting applications, including LED tubes, LED ambient lighting, downlighting and retrofit lamps, the new LM561B features 160lm/W light efficacy, electric current rated at 65mA, 5000K CCT (correlated color temperature), and a rating of over 80 CRI (color rendering index).
The new LM561B achieves a 30% increase in efficiency compared to Samsung's previous mid-power LED (LM561A) package. The improved heat dissipation means that smaller heat sinks can be used, saving on material costs, and also provides customers with the ability to create more compact and flexibly innovative products.
"The Samsung LM561B will provide customers with the highest quality of light in the LED package market today, through its high efficacy and variety in color temperatures," said Jaap Schlejen, senior vice president, LED lighting sales and marketing of Samsung Electronics. "Samsung will continue to improve its product offerings with highly advanced LED package solutions that clearly meet customer needs."
Samsung's LM561B product lineup offers a wide range of color temperatures. It also comes in three brightness levels and provides quarter binning to allow customers to quickly maximize its use in LED lighting production.
Samsung will officially introduce its LM561B family at LIGHTFAIR International 2013 (booth #2645), along with other LED packages, as well as new LED engines, lamps and L-Tubes. LIGHTFAIR International will be held at the Pennsylvania Convention Center in Philadelphia (23-25 April).
Visit: www.samsung.com