18 March 2013
Kotura rolls out 100G silicon photonics chips with WDM in dense QSFP package
In booth 3618 at the Optical Fiber Communication Conference & Exposition/National Fiber Optic Engineers Conference (OFC/NFOEC 2013) in Anaheim (17-21 March), Kotura Inc of Monterey Park, CA, USA, which designs and makes silicon photonics application-specific integrated circuits (ASICs) for the communications, computing, sensing and detection markets, is demonstrating what it claims is the industry's first silicon photonics chips in an industry-standard, dense quad small-form-factor pluggable (QSFP) package.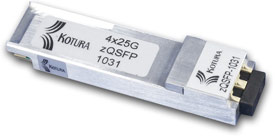 Since Kotura's Optical Engine uses wavelength division multiplexing (WDM), the firm claims that it is the only silicon photonics provider to offer WDM and that it is now the only silicon photonics provider to demonstrate WDM in a 100Gb/s 4x25 QSFP package with 3.5W of power.
Kotura says that its Optical Engine provides a small form factor that reduces power consumption and provides a high level of integration. Consuming only 3.5W, the firm is addressing the need for 'green' solutions for 100G pipes desired by data centers and high performance computers (HPC).
The QSFP package has become the industry-standard footprint for 4x10G and 40G Ethernet in data centers as well as 40G and 56G Infiniband in HPC. Kotura predicts that the same package will become the industry's volume standard for 100G networks in both data centers and HPC applications.
"The QSFP package enables our customers to fit 40 transceivers across the front panel of a switch, providing 10 times more bandwidth than CFP solutions," says president & CEO Jean-Louis Malinge. "Because we monolithically integrate WDM and use standard single-mode fiber duplex cabling, our solution eliminates the need for expensive parallel fibers," he adds. "No other silicon photonics provider can offer WDM in a 3.5W QSFP package."
Kotura has integrated all of the 100G optical and opto-electrical functions into two small chips. According to Malinge, Kotura's WDM can scale from four channels to many more, on the same chip. At 100G and higher, users need WDM to avoid the use of expensive ribbon fiber, parallel connectors and patch panels. For large data centers, reaches of 30m to 2km are common and expensive ribbon fiber dominates the interconnect fabric costs. For active optical cables (AOCs) and very short-reach links, Kotura also offers a parallel version of its 100G Optical Engine.
"The market for 40G transceivers in QSFP packages has grown much faster than expected," comments Vladimir Kozlov, founder & CEO of market research firm LightCounting. "Squeezing 100G in the same QSFP package and reducing power consumption is critical for applications of 100Gb/s optics in data centers", he adds. At OFC, Kotura is demonstrating its Optical Engine in booth 3618 by appointment.
Tags: Kotura silicon photonics
Visit: www.kotura.com