28 March 2013
Peking University orders Aixtron CCS system for LED and laser research
Deposition equipment maker Aixtron SE of Herzogenrath, Germany says that in Q2/2012 China's Peking University ordered a further Aixtron Close Coupled Showerhead (CCS) reactor with capacity for three 2-inch (3x2") substrates in a single run. Delivery is scheduled for Q1/2013.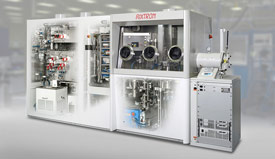 Picture: Aixtron's CCS reactor.
"We already have an Aixtron CCS system in use, and we are very satisfied with it. We now needed a system to improve our UV LED and laser research. The aluminium gallium nitride (AlGaN) material growth needed for this is very challenging due to the very high temperatures of more than 1200°C required. Also AlGaN is very difficult to dope, particularly with magnesium that is used to create the p-type regions needed for hole injection," said Peking University's Professor Shen Bo.
Tags: Aixtron MOCVD LEDs Laser
Visit: www.aixtron.com