5 June 2013
Peregrine introduces new CMOS RF switches
Peregrine Semiconductor Corp of San Diego, CA, USA, a fabless provider of radio-frequency integrated circuits (RFICs) based on silicon-on-sapphire (SOS), says it has set new standards of performance for high-frequency CMOS RF switches with the launch of the SPDT PE42520 and PE42521 devices.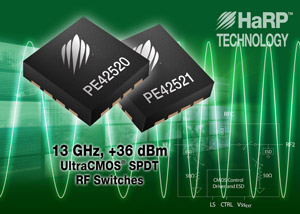 Picture: Peregrine's SPDT PE42520 and PE42521 devices.
Based on Peregrine's UltraCMOS technology, the new, high-linearity switches support operation at 13GHz, combined with high power handling of +36dBm. The devices are ideal for numerous high-frequency applications that require high power handling, such as signal-path and filter bank switching in the test & measurement, wireless backhaul, and military markets, among others, says the firm.
"Peregrine has, once again, set new levels of performance, achieving high-frequency and high-power capability without compromising the core capabilities of UltraCMOS," says Dave Shepard, VP of Peregrine's High-Performance Solutions business unit. "The PE42520 and PE42521 switches, along with our new PE43704 DSA, are the first in our line of high-frequency, high-power products. We look forward to continuing to support applications that require broadband performance of 13GHz and beyond."
The PE42520/21 switches support operation up to 13GHz at 36dBm and feature HaRP technology, resulting in IIP3 of 66dBm, and IIP2 of 115dBm. The PE42520 supports frequencies down to 9kHz, while the PE42521 is a fast-switching variant that operates down to 100MHz. Both devices have low gate lag, a key feature for test & measurement applications. The insertion loss of the PE42520 and PE42521 is 0.7dB at 7.5GHz. Both devices have isolation of greater than 41dB at 7.5GHz.
Peregrine has also unveiled the PE42520 and PE42521 Evaluation Kits, to enable designers to evaluate the new switches in their applications.
The PE42520 and PE42521 RF switches are available in a 16-lead, 3mm x 3mm QFN package. Samples can be ordered in late June, with volume production quantities expected to be available in late July.
Tags: Peregrine SOS CMOS SOI RF switches
Visit: www.psemi.com