27 June 2013
Oxford Instruments Plasma Technology updates iPhone application for plasma etch & deposition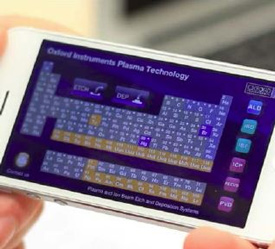 UK-based etch, deposition and growth system maker Oxford Instruments Plasma Technology (OIPT), part of Oxford Instruments plc, has updated its iPhone/iPad application which allows users to look up process chemistries in order to etch or deposit any material through an easy periodic table interface.
Picture: OIPT's App for plasma etch & deposition.
The free to download application provides an interactive periodic table of elements, with detailed plasma, ion beam and atomic layer deposition processing information. The firm says that the application can be used as a teaching device to demonstrate individual element properties and electron configurations.
Download: www.oxford-instruments.com/businesses/nanotechnology/
Tags: OIPT
Visit: www.oxford-instruments.com