20 June 2013
Samsung selects Anadigics' WiFi front-end ICs for Galaxy Tab 3 family
GaAs-based broadband wireless and wireline communications component maker Anadigics Inc of Warren, NJ, USA is shipping production volumes of its AWL9280 and AWL9580 WiFi front-end ICs (FEICs) to Samsung Electronics for the new Galaxy Tab 3 family. These feature-rich tablets, available in screen sizes ranging from 7.0- to 10.1-inches, offer dual-core processors, front- and rear-facing cameras, and Android Jelly Bean operating system.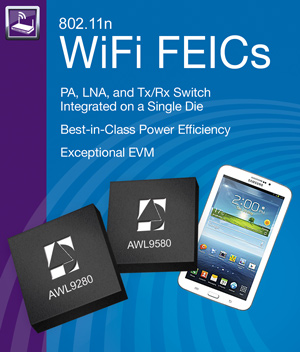 Anadigics' AWL9280 and AWL9580 FEICs are enabling 802.11a/b/g/n WiFi connectivity in the 7.0-, 8.0-, and 10.1-inch versions across multiple models and regions, powering both the 2.4 and 5GHz WiFi bands.
Anadigics' 2.4GHz AWL9280 802.11b/g/n and 5GHz AWL9580 802.11a/n FEICs leverage the firm's exclusive InGaP-Plus technology and patented design architectures to combine a high-performance power amplifier (PA), low-noise amplifier (LNA), and Tx/Rx RF switch on a single die in a compact 2.5mm x 2.5mm x 0.4mm QFN package, with a high-accuracy integrated power detector and RF ports internally matched to 50 Ohms. This level of integration greatly improves manufacturability and reliability, reduces the required PCB area, and simplifies RF front-end design to speed time-to-market.
The complete family of FEICs provides what is claimed to be outstanding error vector magnitude (EVM) and noise figure performance, enabling high modulation accuracy and hence high data throughput.
"Our front-end ICs have raised the bar in WiFi integration and performance, helping reduce space requirements while maximizing battery life and throughput," says Jonathan Griffith, VP of WiFi products.
Tags: Anadigics
Visit: www.anadigics.com