14 June 2013
Huawei selects Anadigics' pentaband PA for new CPE and hotspot devices
GaAs-based broadband wireless and wireline communications component maker Anadigics Inc of Warren, NJ, USA is shipping production volumes of its ALT6526 pentaband power amplifier to China's Huawei for the E5172 consumer premises equipment (CPE) and E5776 WiFi hotspot.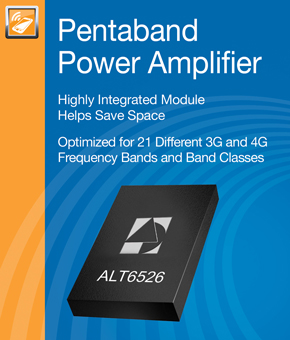 Huawei's E5172 and E5776 solutions allow multiple WiFi-enabled devices to simultaneously share a single high-speed 3G and 4G cellular data account. The E5172 also provides Ethernet connectivity to support additional users. Both the E5172 and E5776 leverage Anadigics' pentaband power amplifier to enable 3G and 4G connectivity, achieving speeds up to 150Mbps with LTE Cat4.
The ALT6526 pentaband power amplifier is optimized for 3G and 4G computer modules, datacards and hotspots, as well as automotive and machine-to-machine (M2M) applications, operating in CDMA/EVDO, WCDMA/HSPA, and LTE modes. The compact, low-profile 5mm by 7mm by 0.9mm module incorporates amplification chains to deliver high linearity and efficiency in each of the 21 bands and band classes that it supports for higher throughput and greater battery life. The ALT6526 also includes an integrated voltage regulator, built-in directional coupler, and internal DC blocks on all RF ports to help reduce RF space requirements.
"Anadigics' pentaband power amplifier provides a compelling path for multi-band and multi-mode cellular connectivity and M2M devices by delivering exceptional efficiency across all modes and frequency bands," says Michael Canonico, senior VP of worldwide sales. "By combining this level of performance and integration in a single module, we can help achieve higher data throughput, extend battery life, and save valuable PCB space," he adds. "We look forward to working closely with Huawei on future connectivity solutions."
Tags: Anadigics
Visit: www.anadigics.com/products/view/alt6526