13 June 2013
Aixtron receives Aurora Award for AIX G5+ GaN-on-Si MOCVD system
Deposition equipment maker Aixtron SE of Herzogenrath, Germany has been awarded the 2013 LEDinside Aurora Award in the category "Most efficient MOCVD Equipment". Aixtron received the award for its AIX G5+ MOCVD system for growth of gallium-nitride-on-silicon (GaN-on-Si). The system was chosen for its production efficiency and technological advancement, says Aixtron.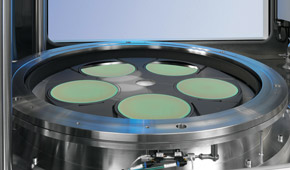 Picture: Aixtron MOCVD system.
"Producing gallium nitride based LEDs on 200 mm silicon substrates is a promising route towards a much lower chip manufacturing cost," comments Andreas Tönnis, chief technology officer at
Aixtron.
With the AIX G5+, Aixtron has created a 5 x 200 mm technology package for the existing AIX G5 HT (for GaN-on-Si devices), offering the industry's largest multi 200 mm MOCVD reactor, says the firm.
Manufacturers, such as the US firm Transphorm will build on Aixtron's advanced GaN-on-Si technology, expanding productivity from 150 to 200 mm diameter wafers, with the aim of fully exploiting economies of scale offered by the AIX G5+.
The challenges of GaN-on-Si MOCVD processes are met by the novel features of the G5+ reactor, including modified temperature management, a new gas inlet and a chamber reset procedure. This results in minimization of wafer bow and elimination of melt back effects, maximum process stability and highest uniformity due to a specifically designed rotational symmetry pattern, says the firm.
Visit: www.aixtron.com