31 July 2013
Diamond Microwave launches compact high-power X- and Ku-band GaN solid-state power amplifiers
Diamond Microwave Devices Ltd of Leeds, UK, which was spun out in 2006 from the diamond electronics team of Element Six and specializes in gallium nitride (GaN)-based microwave solid-state power amplifiers (SSPAs), has launched an ultra-compact high-power SSPA operating in the X- and Ku-bands, suiting use in demanding defence, aerospace and communications applications.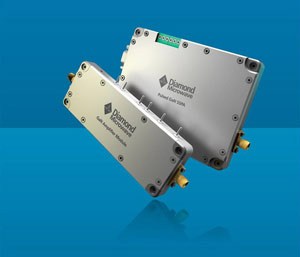 The solid-state power amplifiers are based on gallium nitride (GaN) devices, and offer high pulsed power performance coupled with a power-to-volume ratio that the firm believes to be among the highest in the industry for such products. Pulsed power output levels of up to 150W have been achieved. The designs are flexible in layout and architecture, and are fully customizable to meet individual specifications for electrical, mechanical and environmental parameters, says the firm. Amplifiers with pulsed power outputs in excess of 1kW, and with multi-octave bandwidths, are also under development.
At June's 2013 IEEE MTT-S International Microwave Symposium (IMS 2013) in Seattle, WA, USA, Diamond Microwave displayed an example of a Ku-band amplifier with a peak pulsed output power of 125W at 16.5GHz and a 1dB bandwidth of 1.5GHz in a space outline that is similar in size to a smartphone. "Our amplifiers are really pushing boundaries with their compact size and high output powers," says managing director Richard Lang.
Element Six sets up Diamond Microwave Devices subsidiary to collaborate with Filtronic
Tags: GaN-on-diamond
Visit: www.diamondmw.com