10 July 2013
Anadigics' HELP 3G PA selected by Huawei for Ascend P6 smartphone
GaAs-based broadband wireless and wireline communications component maker Anadigics Inc of Warren, NJ, USA is shipping production volumes of its AWC6340 HELP (High-Efficiency-at-Low-Power) power amplifier (PA) to Huawei for the new Ascend P6 smartphone (which features a 4.7-inch HD display, 1.5GHz quad-core processor, 8 megapixel camera and Android 4.2.2 Jelly Bean operating system).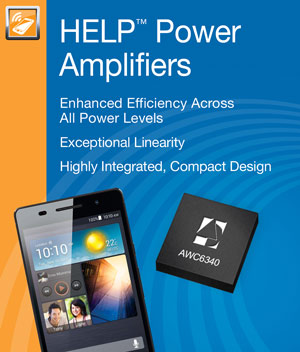 Picture: Anadigics' HELP PA powers Huawei's Ascend P6.
"We are very pleased to enable 3G connectivity in the Ascend P6, the world's slimmest smartphone," says Navi Miglani, director of product marketing for Cellular Products at Anadigics. "The selection of Anadigics' AWC6340 power amplifier for this flagship smartphone not only exemplifies the strength of our relationship with Huawei, but also the space-saving and total battery-life benefits across all power levels delivered by our RF solutions," he adds.
Anadigics' HELP 3G power amplifiers use the firm's patented InGaP-Plus technology to achieve higher efficiency at low and high power levels and to minimize quiescent current, helping to extend battery life in smartphones. HELP power amplifiers also deliver what is claimed to be exceptional linearity to ensure a stable connection for clear voice and high-speed data.
In particular, the compact 3mm x 3mm AWC6340 power amplifier features an internal voltage regulator and integrated RF coupler to simplify design and phone calibration requirements. This level of integration reduces external component requirements and saves valuable PCB space, the firm adds.
Tags: Anadigics
Visit: www.anadigics.com