29 July 2013
Aixtron cuts losses as revenue rebounds 13% in Q2
For second-quarter 2013, deposition equipment maker Aixtron SE of Aachen, Germany, has reported revenue of €45.3m, down 1.7% on €46.1m a year ago but up 13% on €40.2m last quarter. The firm also recorded improvements in its gross profit and operating result (EBIT).
Aixtron said that this development reflects "the first positive impacts" from its 5-Point-Program, which commenced in Q1/2013. It added that efficiency improvements and cost-cutting measures resulted in reductions in both cost of sales and operating expenses.
Earnings before interest and taxes (EBIT) of -€9.8m improved on both -€16.5m a year ago and -€76.3m last quarter. The sequential development reflects the initial success of the '5-Point-Program', which began in Q1/2013, the firm says.
Despite a cash outflow of -€3.7m in Q2, free cash flow in first-half 2013 was €5.6m (due to + €9.3m in Q1). As of end-June, Aixtron recorded cash and cash equivalents were €215.9m (down from €219.9m at the end of March, but up from €209.5m at the end of 2012).
5-Point-Program: initial success
The program, presented in May, consists of a number of targeted individual projects, designed to address the following five topics: (1) a focus on customer benefits; (2) utilization of technology and product portfolio; (3) processes; (4) attention to financial targets; and (5) strengthening of Aixtron's corporate culture.
In particular, after planning and implementing an improved product development process, a specific initiative for the optimization of Aixtron's supply chain has been started. The aim is to increase efficiency on a global scale in procurement, logistics and inventory-management.
Aixtron is also continuing to develop its 'customer-specific' measures, such as increasing output and yield of the installed base. Another major objective of the program is to cut operating expenses by 20%.
"With our 5-Point-Program we are on track to regain sustainable profitability," says Martin Goetzeler (president & CEO since 1 March). "Our main focus is on innovative technology solutions, increasing the production efficiency of our customers as well as the efficiency of our own core process flows," he adds. "This is valid for all of our targeted growth markets, including applications beyond LED, such as next-generation memory chips. Our Q2 figures show first positive results of the successful implementation of our 5-Point-Program."
Outlook
For first-half 2013, equipment order intake of €60.3m was broadly unchanged year-on-year, down 2% on €61.5m. Sequentially, equipment order intake remained "rather subdued", rising just 2% from €29.9m in Q1 to €30.5m in Q2. Total equipment order backlog at the end of June 2013 was of €71.7m, down 48% on €137.7m at end-June 2012 and down 14% on the 2013 opening backlog of €83.8m (revalued as of 1 January at the exchange rate of $1.30: €1.00, valid at the time).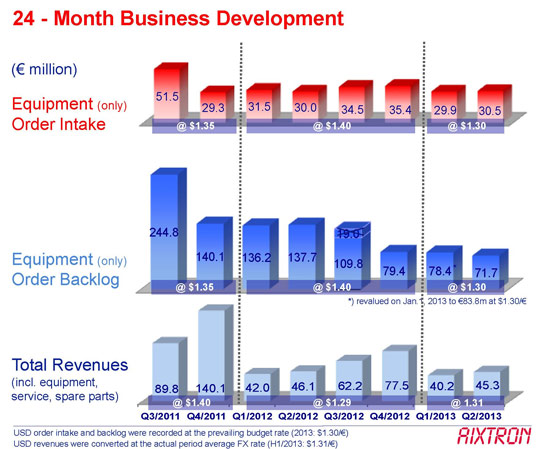 The rising rates of capacity utilization at leading LED manufacturers give reason to believe that the overcapacity in the market for MOCVD equipment for the production of LEDs continues to diminish," commented Goetzeler. "However, it remains difficult to predict, when and to what extent this will translate into significant new equipment orders. Due to this continuing low visibility, our management remains unable to give precise guidance on the company's revenues and EBIT margin for the current financial year," he adds.
"However the prospects for the deposition technologies offered by Aixtron remain positive. The initiated measures contained in the 5-Point Program will contribute to a further stabilization of the company's cost and earnings situation in the second half of 2013," Goetzeler concludes. "The executive board still expects Aixtron not to require any bank financing in the foreseeable future."
Aixtron outlines 5-Point Program to return to sustainable profitability
Aixtron's revenues and orders continue to struggle in Q1
Aixtron reports loss of €132m for 2012 as sales fall 63%
Aixtron's Q3 upturn not enough to avoid heavy 2012 loss
Aixtron records €51.5m inventory write-down due to slower-than-expected recovery in MOCVD demand
Visit: www.aixtron.com/agm
Author: Matthew Peach, Contributing Editor