16 January 2013
Verbatim to launch halogen-replacement lamps based on Seoul Semiconductor's nPola LED chip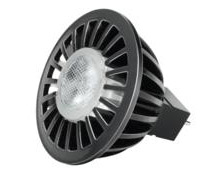 South Korean LED maker Seoul Semiconductor Co Ltd says that Verbatim is to launch a new range of LED-based products that are built around Seoul Semiconductor's patented nPola technology. nPola minimizes defects in the LED chip's active layer and allows current densities between five and ten times greater than conventional chips, says the firm. This results in between five and ten times brighter light output from the same size of chip.
Picture: MR16 LED lamp.
Instead of sapphire or silicon carbide substrates, gallium nitride (GaN) substrates from Verbatim's parent company Mitsubishi Chemical Corp are used for the GaN epitaxial growth on which nPola technology is based.
With mass production expected to begin in March, Verbatim's initial launch of nPola-based LED lamps will focus on MR16 form factors, targeting 50W MR16 halogen equivalency.
Tags: Seoul Semiconductor nPola LEDs GaN
Visit: www.seoulsemicon.com/en