15 January 2013
China's Focus Lightings orders multiple Aixtron CRIUS II-L systems
Deposition equipment maker Aixtron SE of Herzogenrath, Germany says that in Q4/2012 China's Focus Lightings Tech Inc ordered multiple CRIUS II-L systems for the mass production of gallium nitride (GaN) light emitting diode (LED) epitaxial wafers. The systems will be configured to handle up to 69x2-inch wafers per run. Shipment of the systems started in December 2012.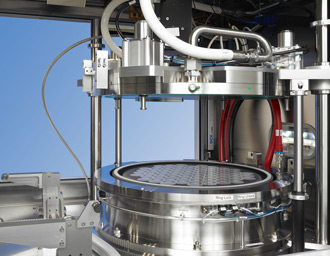 Huarong Pan, chairman of Focus Lightings Tech, said: "We eagerly await delivery of Aixtron's latest CRIUS Close Coupled Showerhead (CCS) generation for our future mass production of white-light LEDs. With the system's low cost of ownership and high productivity as well as Aixtron's strong customer service in China, the CRIUS II-L systems will increase our competitiveness in the LED market."
CRIUS II-L allows easy process transfer from earlier CRIUS systems. Furthermore, the L equipment can be refitted for a new wafer size up to 8-inch diameter by a simple change of the carrier plate, says Aixtron.
Focus Lightings Tech Inc's new plant houses chip production lines for red, yellow, blue, green, and white LED lights, as well as an R&D center that is working to transition chip production from two- to four-inch substrates.
Tags: Aixtron MOCVD GaN CRIUS II-L LEDs
Visit: www.aixtron.com