21 February 2013
M/A-COM Tech launches small-outline surface-mount broadband diplexer for CATV applications
M/A-COM Technology Solutions Inc of Lowell, MA, USA (which makes analog semiconductors, components and subassemblies for RF, microwave and millimeter-wave applications) has launched a broadband diplexer, designed specifically for CATV customer premises equipment (CPE) applications.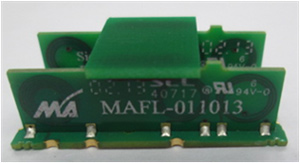 The MAFL-011013 is a high-performance 42/54MHz diplex filter suited to real-estate-constrained CPE applications. It delivers what is claimed to be excellent temperature stability and repeatability in a small 27mm x 13mm package, allowing quicker design turns. Unlike competing discrete and CAN solutions, the filter is a 75Ω surface-mount diplex filter device with insertion loss of 0.5dB, return loss of 16dB, and isolation of 50dB.
"The MAFL-011013 is ideal for customers looking for a diplex filter with repeatable high performance in a small outline package," reckons product manager Graham Board. "This 42/54MHz split targets North American cable and is a cost-effective filtering solution for constrained CPE applications."
Production quantities and samples of MAFL-011013 are available from stock.
Visit: www.macomtech.com