27 February 2013
Luminus ships high-power UV Big Chip LED in CBT-90 form factor
At the recent SPIE Photonics West 2013 trade show in San Francisco (5-7 February), Luminus Devices Inc of Billerica, MA, USA, which makes PhlatLight (photonic lattice) LEDs for solid-state lighting applications, announced that production units of a new high-powered UV Big Chip LED in its CBT-90 form factor are available for immediate delivery.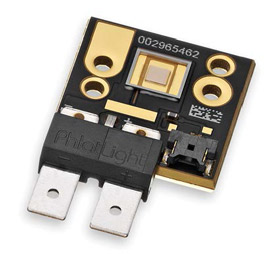 By providing a high-performance form factor at 405nm, the CBT-90-UV LEDs will help to accelerate the conversion to solid-state UV light sources in industrial markets, the firm reckons. CBT-90-UV LEDs contain a single monolithic 9mm2 die that emits directly into air. At a forward current of 13.5A, the LEDs produce a NIST-traceable power output ranging from 7W to 9.1W at 405nm peak-wavelength, suiting UV life science, machine vision and curing applications.
"The CBT-90-UV LED provides all of the traditional advantages of Luminus' Big Chip LED technology, including improved thermal power density and simpler support system architecture, along with delivering greater wall-plug efficiency than traditional-sized LED dies and arrays," says Mike Lim, director of global industrial and new business. "Luminus engineers designed it to replace traditional UV mercury vapor lamps, and the CBT-90-UV's features provide new high-power LED solutions that also deliver longer lifetimes, greater energy efficiency, the reduction of harmful emissions and the elimination of environmental disposal issues," he adds.
Visit: www.luminus.com