26 February 2013
Anadigics' ProEficient PAs power Samsung Galaxy Music Duos and Chat
GaAs-based broadband wireless and wireline communications component maker Anadigics Inc of Warren, NJ, USA says it is shipping production volumes of its AWT6651 ProEficient power amplifier (PA) to Samsung Electronics for the Galaxy Music Duos and Chat.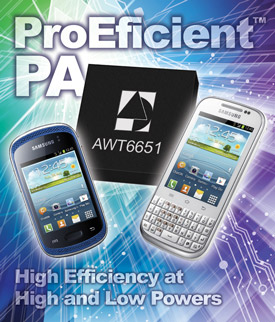 Picture: ProEficient PA.
"Anadigics' ProEficient and ProEficient-Plus power amplifiers provide the industry's best combination of efficiency, current consumption, and linearity to help extend battery-life and maintain stable, high throughput 4G connectivity," said Michael Canonico, senior VP of Worldwide Sales. "The selection of the AWT6651 for the Galaxy Music Duos and Chat not only exemplifies the tremendous real-world performance advantages offered by our ProEficient solutions, but also the strength of the relationship that we have forged with Samsung Electronics."
ProEficient PAs use Anadigics' exclusive InGaP-Plus technology to achieve efficiency at high and low power modes to extend 3G and 4G battery-life without the use of a DC-DC converter. The PAs are also optimized for use with average power tracking (APT) to further increase efficiency and reduce current consumption at medium and low operating powers. In addition to outstanding efficiency, ProEficient power amplifiers deliver exceptional linearity to ensure a stable connection for clear voice and high-speed data, adds the firm.
ProEficient features:
Exceptional efficiency in both low and high power modes, and very low quiescent current to extend battery-life
Compact 3mm x 3mm package with internal voltage regulation and integrated DC blocks on the RF ports to reduce PCB space requirements
Best-in-class linearity to maintain stable, high-throughput 3G/4G connections
RF matching optimized for output power, efficiency, and linearity in a 50-Ohm system
Tags: Anadigics
Visit: www.anadigics.com