21 February 2013
Anadigics extends frequency band coverage of small-cell power amplifier family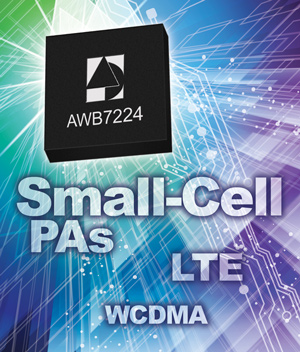 GaAs-based broadband wireless and wireline communications component maker Anadigics Inc of Warren, NJ, USA has launched the AWB7224 small-cell power amplifier (PA), optimized to deliver a combination of efficiency, linearity, output power and thermal characteristics for WCDMA, HSPA and LTE small-cell base-stations operating in the 728-768MHz frequency band. The firm says that manufacturers can leverage this performance to develop infrastructure solutions that consume less power and provide higher throughput and greater coverage.
"Anadigics continues to expand its family of small-cell power amplifiers to target the 3G and 4G frequency bands most used in dense population areas," says Glenn Eswein, director of product marketing for infrastructure products. "The rapid increase in wireless data consumption, especially in urban and campus settings, places tremendous pressure on existing wireless infrastructure. Our solutions enable the design of high-throughput, reliable and compact small-cell base-stations that offer service providers an economical and pragmatic path to expand broadband network coverage."
Anadigics' small-cell wireless infrastructure power amplifiers leverage the firm's patented InGaP-Plus technology and design architectures. The AWB7224 offers 13% efficiency to minimize power requirements and provide flexibility in selecting network power systems. With linearity of -47dBc ACPR at +27dBm output power and 29dB of RF gain, it enables high-throughput data rates with a wide coverage area.
The complete family of small-cell power amplifiers is available in a compact, low-profile 7mm x 7mm x 1.3mm surface-mount package with integrated RF matching to reduce PCB space requirements.
Engineering samples of the AWB7224 are available now for qualified programs.
Tags: Anadigics small-cell
Visit: www.anadigics.com