18 April 2013
Soraa launches full-spectrum 65W- and 75W-equivalent LED MR16 Lamps
Soraa Inc of Fremont, CA, USA, which develops solid-state lighting technology built on 'GaN on GaN' (gallium nitride on gallium nitride) substrates, has launched its full-spectrum VIVID 2 and PREMIUM 2 LED MR16 lamp lines – claimed to be the first ultra-efficient replacements for 65-watt and 75-watt halogen lamps – available for both 12V and line voltages.
Enabled by the latest record performance (announced in February) of Soraa's GaN-on-GaN LEDs, the new LED MR16 lamps deliver what is claimed to be the industry's highest light output, while rendering vivid colors, richer reds and whiter whites.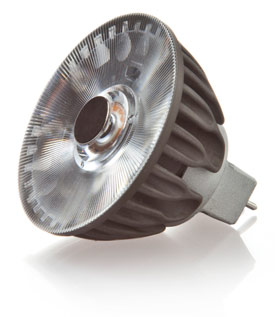 Picture: Soraa's LED MR16 lamp.
"We now have 65W- to 75W-equivalent lamps that produce full visible spectrum light and consume 80-85% less energy," says CEO Eric Kim. "We have just scratched the surface in terms of performance gains from our GaN-on-GaN LED technology," he adds.
Most LED lamps currently available are based on LEDs made by depositing GaN on foreign substrates like sapphire, silicon carbide (SiC) or silicon. They consequently have high crystal defect densities that limit the current density they can handle, limiting the amount of light they emit per unit area. The high defect densities also constrain the LEDs to much lower temperatures in order to operate reliably. Both these limitations are amplified when the LEDs are used in a small form factor like an MR16 lamp, which is frequently installed in constrained or enclosed fixtures, and is used in applications that require very high light output. The lamps that use these LEDs require compensating design choices, says Soraa, such as using multiple LED light sources to generate the required amount of light, and active cooling mechanisms to keep the LEDs within their operating temperature range.
In contrast, the VIVID 2 and PREMIUM 2 lamps' GaN-on-GaN LED technology leverages the 1000x lower crystal defect density advantage of the native substrate, thus emitting much more light and allowing reliable operation at much higher temperatures, says Soraa. This enables a very simple and robust MR16 lamp design that uses a single LED light source and a simple heat-sink, while producing 65-75W halogen equivalent light output and operating reliably at lamp temperatures of up to 120°C (a requirement for use in the most constrained fixtures). "Smaller-form-factor, high-output LED MR16 lamps will now replace larger lamp types like PARs," believes Kim.
The VIVID 2 LED MR16 lamp has a color rendering index (CRI) of 95 and an R9 value of 95 and is available in a complete suite of beam angles, color temperatures and lumen outputs; the PREMIUM 2 LED MR16 lamp has a CRI of 80 and is available in multiple beam angles and color temperatures.
Both MR16 lamps will soon be available for line voltage fixtures. The 100V E11 lamp will be available in May through Soraa's Japanese distribution partner Ushio. The 120V GU10 lamp for the US market will be available in July, followed by the 230V GU10 lamp for international markets in September. The 120V E26 lamp for PAR lamp fixtures will be available in fourth-quarter 2014.
The VIVID 2 and PREMIUM 2 LED MR16 lamps are on show in booth 4047 at LIGHTFAIR INTERNATIONAL 2013 in Philadelphia, PA (23-25 April).
Soraa announces next generation of GaN-on-GaN LEDs
Tags: Soraa GaN-on-GaN
Visit: www.soraa.com